Russian military denies rumors of new air base in Syria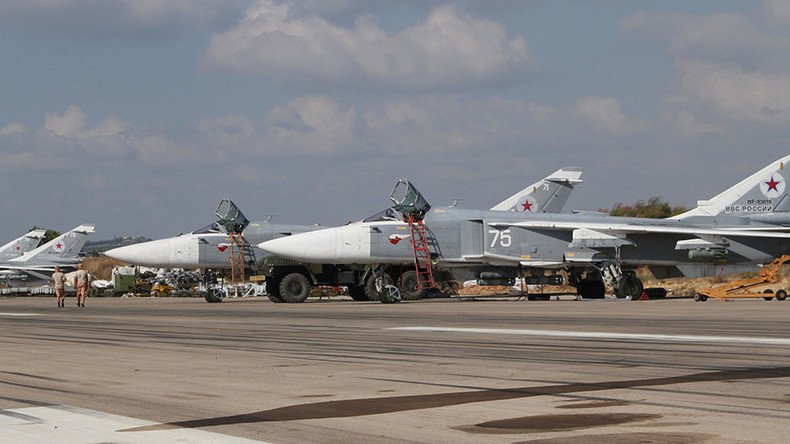 Russia's Defense Ministry has denied speculations about constructing second air base in Syria. The rumor could be a false flag operation by Ankara to cover up the concentration of Turkish forces on the Syrian border, MoD spokesman said.
"There are no 'new' airbases or additional 'jump-up bases' for Russian warplanes in the Syrian Arab Republic, as well as no plans to create any," Defense Ministry spokesman Major General Igor Konashenkov told media briefing on Monday.
According to Konashenkov, "the allegations published by the British newspaper the Times on the matter are either dilettantish farce or an awkward attempt to provide a media cover-up for pulling in large number of Turkish troops to the Syrian border next to Al-Qamishli area."
The Times reported on Saturday that Turkey's President Recep Tayyip Erdogan "expressed alarm" on Friday at reports that "up to 200 Russian personnel" had been observed strengthening the runway at an airbase in the Syrian city of Al-Qamishli (also known as Al-Qamishly, Kamishli or Kamishly) on the eastern border with Turkey.
The alleged proximity of Russian personnel to Turkish border alarmed Ankara to such an extent that Turkey's military was reported to be sending reinforcements to the respective border segment, with soldiers "digging trenches" to counter the phantom threat.
"We have repeatedly stressed that a flight time of an aircraft of Russian task force in Syria to the most remote part of the country is about half an hour," Konashenkov said, adding that any "straight-faced discourse" about deployment of Russian Air Force to Al-Qamishli lies within the domain of "absolute simpletons."
In early December, Konashenkov denied rumors about preparing yet another "new airbase" for Russian warplanes in Syria, which was allegedly being deployed at Shayrat military airfield in Homs province.
The Russian air operation in Syria against Islamic State (IS, formerly ISIS) began on September 30 on request of President Bashar Assad. All Russian aircraft in Syria are based at Khmeimim airfield in Latakia province.
You can share this story on social media: