Russian military needs no second base in Syria – Defense Ministry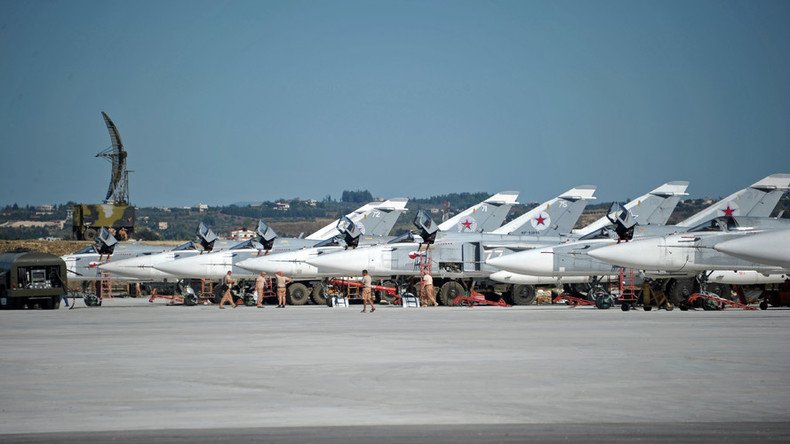 The Russian Defense Ministry has quashed rumors about setting up another military base in Syria. There is "no operational need" to establish a new installation as Russian warplanes can already easily reach the farthest parts of Syria, an MoD spokesman said.
Last week reports emerged about a Russian task force preparing to be deployed at Shayrat military airfield in Syria's Homs province.
"You don't need to be a serious military expert to understand that it takes only a 30-40 minute flight to the furthest Syrian location from the [existing] Khmeimim military airfield hosting the Russian Air Force," Major General Igor Konashenkov, a Defense Ministry spokesman, told a media briefing on Wednesday.
"There is no operational need to deploy a new Russian airbase on Syrian territory," Konashenkov added.
The more powerful and precise Russian airstrikes in Syria become, "the more criticism our colleagues express, trying to deflect the public's attention," the spokesman said.
"It has become evident for the international community who is who in fighting global terrorism," Konashenkov stressed.
While Russia presents video proof of the operations of its Air Force against terrorists on a daily basis, the US-led antiterrorist coalition has continued to speak about their successes without presenting exact facts and figures.
Reporting on the results of the air operation against Islamic State (IS, formerly ISIS/ISIL), Konashenkov reported that the Russian Air Force has conducted 82 sorties in Syria in the last day, eliminating 204 terrorist installations in the provinces of Aleppo, Hama, Homs, Idlib and Latakia.
"There have been 32 night missions completed," Major General Konashenkov said.
You can share this story on social media: