Pentagon talk about 'boots on the ground' in Syria a PR stunt - top Russian MP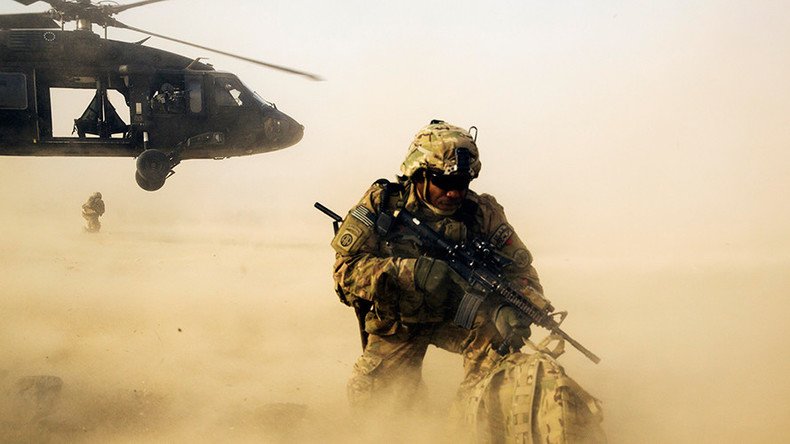 The US defense secretary's statement about American boots on the ground in Syria is nothing but a publicity move to "steal thunder in fighting terrorism in the Middle East," said the head of the Russian parliament's Foreign Relations Committee.
"Boots on the ground [in Syria] being talked about now is so far largely a political PR operation," Aleksey Pushkov, the head of the Duma's Foreign Relations Committee, said in a talk show with Russian TV anchor Vladimir Solovyov on Sunday.
"Why, instead of getting the troops and the military transport aircraft ready, did [US Defense Secretary] Ash Carter broadcasts the intention to the world first?" Pushkov asked.
"The Americans need to seize the initiative in the Middle East, because Syria is the place where the leader of the modern world is being determined."
In an interview with CNBC on Friday, Carter said the US intends to defeat Islamic State's (IS, formerly ISIS/ISIL) greatest strongholds - the northern Iraqi city of Mosul and the IS "capital" Raqqa, in Syria.
"We're looking for opportunities to do more and there will be boots on the ground, and I want to be clear about that," Carter told CNBC from the World Economic Forum in Davos, Switzerland. "But it's a strategic question whether you are enabling local forces to take and hold rather than trying to substitute for them," he said.
"We're prepared to do a great deal because we have the finest fighting force the world has ever seen. We can do a lot ourselves," Carter said.
In fact, the US is sending some 50 special operations forces to northern Syria to gather intelligence and maintain contacts with local forces.
"It is a keyhole through which one gets a lot of insight, and thereby allows us more effectively to bring the huge weight of coalition military power to bear on the battlefield in an effective way," CNN cited Carter as saying last Wednesday.
In his "It's Time to Accelerate the ISIL Fight" editorial for Politico magazine published January 13, the defense secretary stressed that the decisive role in fighting IS would be reserved for Iraqi and Syrian forces.
"To eliminate the parent tumor [of terrorism] in Iraq and Syria, we are enabling local, motivated forces with critical support from a global coalition," Carter said, mentioning a readiness to provide wide technical support and promising to apply pressure on those members of the US-led anti-ISIS coalition that are only fighting terrorism "on paper."
"The United States does not ask people for favors, but we don't grant favors either, and so we're looking for other people to play their part," he said.
The US Air Force began a bombing campaign on IS positions in Iraq on August 8, 2014. On September 23 of that year, American warplanes started airstrikes on Syrian territory, provoking a highly negative reaction from Damascus, as Washington had not obtained the authorization of President Bashar Assad's government to conduct operations in Syrian airspace.
Along with the US Air Force, warplanes of other members of the US-led anti-IS coalition have participated in airstrikes against the terrorist group, namely Australia, Canada, France, Jordan, the Netherlands, Saudi Arabia, Turkey, United Arab Emirates, and the UK - either Iraqi or Syrian airspace, or both.
You can share this story on social media: