Abbas steps up security against Palestinian armed attackers, calls for 'peaceful uprising'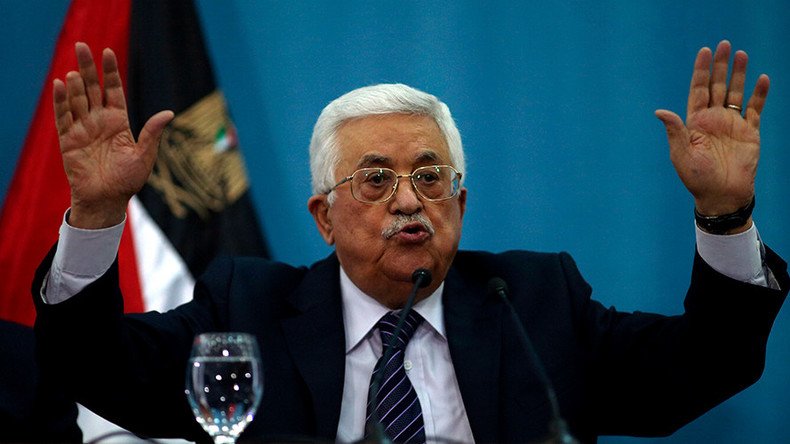 President Mahmoud Abbas has denounced the recent spate of violent attacks against Israel, saying that Palestinian security forces have been tasked with arresting anyone who acts with the use of arms and explosives.
"Anyone who wants to act against security forces using explosives, weapons or creating cells in any place will be arrested, no matter where he is going. Security measures have been taken following my orders," Abbas told the media in the West Bank on Saturday, as quoted by Euronews.
"All the nation and political parties are supporting the national uprising. But we support a peaceful national uprising," the Palestinian leader added.
Abbas's statement came as a 13-year-old Palestinian girl was shot dead by an Israeli guard near her family home after alleged knife attack on Saturday. The incident happened at the entrance to the Anatot settlement, where - according to Israeli police - the knife-wielding teenager ran towards the security guard, after which he opened fire. It was the third knife attack by Palestinian teenagers in settlements in the course of a week, Israeli authorities said.
According to a December survey conducted for the Palestinian Center for Policy and Survey Research, nearly 70 percent of Palestinians in the West Bank and Gaza Strip support stabbings in confrontations with Israelis, but disapprove of young girls carrying out any kind of attacks.
The latest upsurge in violence that started last fall has already resulted in nearly 150 Palestinians deaths at the hands of Israeli forces, with around one hundred of them said to have been assailants, with the rest dying in clashes with police. Twenty-five Israelis and a US citizen have been killed in the attacks, according to Israeli authorities.
READ MORE: Palestinians raise $60k to rebuild home of stabber's family demolished by Israel
While the two sides' leaders, Palestinian President Mahmoud Abbas and Israeli Prime Minister Benjamin Netanyahu, have repeatedly blamed each other for the escalation of violence, the two nations' forces have been quietly cooperating on West Bank security, Reuters reported. Earlier this week, one of Abbas's senior security chiefs, Major General Majid Faraj, was quoted as saying that around 100 Palestinians have been arrested by Palestinian forces since October, while 200 attacks on Israelis have been prevented.
"The coming weeks and months will represent a new track in the Israeli-Palestinian conflict and on the future of the Palestinian cause and its consequences," Abbas's spokesman Nabil Abu Rdainah told Reuters, adding that Palestine is currently involved in "international contacts and consultations."
Meanwhile, Israel has accused Lebanon's Hezbollah of recruiting militants in the Israeli-occupied West Bank to carry out suicide bombings, aiming to escalate the surge in Palestinian street violence. Hezbollah was hoping to "ride the wave" of stabbings and shootings carried out by often young and leaderless Palestinians against Israelis, Reuters reported, citing a statement from Israeli police. Hezbollah has not commented on the charges.
The current surge of violence has raised concerns over the potential wider escalation of the conflict, as previously attacks had been rare since the 2000-2005 escalation known as the Second Intifada. Palestinian suicide bombings against Israel were common back then, with over 5,000 Palestinians and more than 1,000 Israelis being killed in the conflict. Mahmoud Abbas, who has been in power since 2005, has since called on Palestinians to show non-violent forms of resistance.
You can share this story on social media: