Palestinians raise $60k to rebuild home of stabber's family demolished by Israel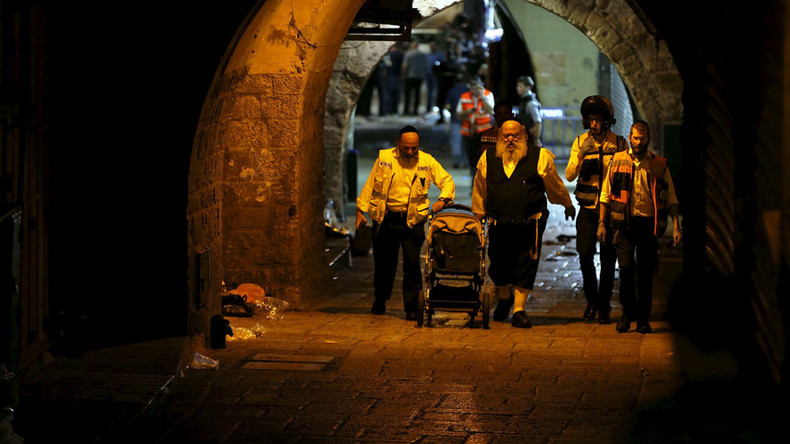 Palestinians managed to collect $60,000 to rebuild a family's home in the West Bank after Israel tore it down as punishment for a deadly stabbing. It was demolished after one of the sons stabbed two Israelis to death before being shot dead by police.
Muhannad Halabi, a nineteen-year-old student, stabbed two ultra-Orthodox Jewish men to death near the Western Wall in Old Jerusalem on October 3. He was shot dead by Israeli police shortly after the attack.
Halabi's home was consequently demolished on Saturday by the Israeli army in the occupied West Bank village of Surda, near Ramallah. Israel labeled the demolition a punitive measure to prevent further attacks on Israelis.
However, these kinds of acts have been criticized by rights groups for punishing entire families and not just the individuals responsible for crimes.
The Palestinian campaign to raise money for a new home for the family quickly gained popularity, AFP quoted organizers as saying.
READ MORE: Israel launches Palestinian clampdown as fears of new intifada remain

"In two days we raised $60,000," campaign coordinator Morsi Abu Ghueila said while collecting money in a box labeled "Mohannad Halabi, initiator of the Jerusalem intifada" in central Ramallah square.
The donations have come in various shapes and sizes, including Israeli shekels, Jordanian dinars, US dollars and euros.
Some are even donating building materials, according to campaign spokesman Abdel Karim Abu Arqub.
Following Halabi's attack, the militant Palestinian Islamic Jihad group claimed Halabi as one of its members. "Mohannad Shafik Halabi, 19, is a member of Islamic Jihad," a senior member of the Palestinian extremist group told AFP on condition of anonymity, after the group had issued a statement hailing the attack and saying it had been a response to "terrorist crimes" committed by Israelis against Palestinians.
Some Palestinians now consider the knifeman a praiseworthy individual who resisted Israeli rule – a notion that helped kickstart the campaign.
Mohannad's father, Shafiq Halabi, has not given up on the idea of rebuilding his Surda home, even though Israel insists any attempt to rebuild it in the same location would be deemed illegal. "I shall put up a tent here and return to live on my land with my children," the father said.
Halabi's stabbing attack this fall was one of the first that began a wave of violence, which has so far claimed the lives of 23 Israelis and 149 Palestinians.
Israeli police and Palestinians have been frequently clashing at East Jerusalem's al-Aqsa mosque compound. In response to the increase in violence, Israeli Prime Minister Benjamin Netanyahu authorized the use of live ammunition last month, and not just in cases of self-defense, to quell the unrest.
You can share this story on social media: