Zika virus no pregnancy advice 'offensive' – women's rights activists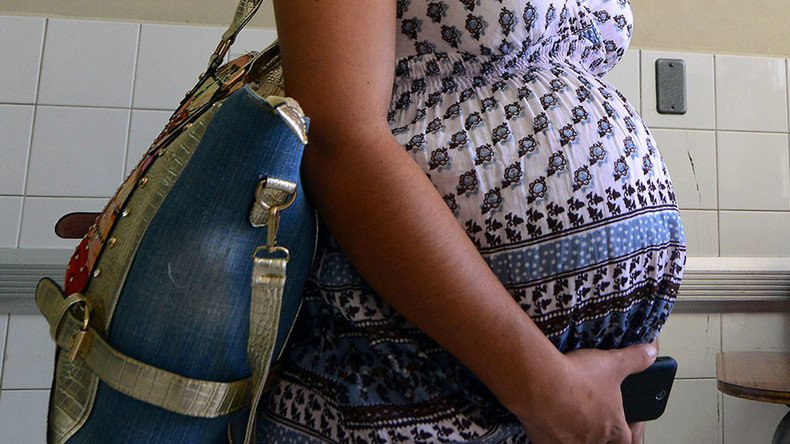 Officials in Latin America and the Caribbean have warned women to avoid pregnancy amid an outbreak of the mosquito-borne Zika virus, which can cause severe birth defects. Rights groups have hit back, saying women often have no choice about pregnancy.
The advice was issued by officials in El Salvador, Colombia, Ecuador and Jamaica.
Salvadoran deputy health minister, Eduardo Espinosa, has urged couples to take the warning seriously, given that at least 5,397 cases of the Zika virus were detected in El Salvador (the smallest and most densely-populated country in Central America) in 2015 and the first few days of this year.
"This is why we're recommending to partners to plan their pregnancy. If they decide to get pregnant then take the necessary measures to protect mothers during their pregnancy they cover a large part of their bodies so they are not exposed to the mosquito which could cause Zika and a child with microcephaly [a birth defect]," Espinosa stated.
The Salvadoran government has urged women to avoid getting pregnant until 2018, saying that the biggest challenge is to avoid spreading the virus.
"This implies a new risk for our population in a way that we need to face, destroying the transmitter of these illnesses. For us to be successful there can't be more than four positive cases for every 100 [patients]," Civil Protection Minister Jorge Melendez said.
Infants are most at risk from the Zika virus, as mothers can pass the infection on to their fetuses, leading to microcephaly, a rare neurological disorder in which babies are born with abnormally small heads and developmental delays. Official figures in El Salvador show 96 pregnant women are suspected of having contracted the virus. None has had a baby born with microcephaly so far.
El Salvador, meanwhile, has one of the highest rates of teenage pregnancy in Latin America, with girls aged between 10 and 19 accounting for about a third of all pregnancies, Reuters reported. According to rights groups, rape at the hands of stepfathers, relatives and gang members is the number one reason. But San Salvador has a total ban on abortion, considered a crime under all circumstances, including rape and health risks when a woman's life is at stake.
"In El Salvador, the recommendation to postpone pregnancy is offensive to women and even more ridiculous in the context of strict abortion laws and high levels of sexual violence against girls and women," Monica Roa, vice president of strategy for the group Women's Link Worldwide, told Reuters.
Caution against pregnancy in El Salvador must go hand in hand with a public discussion of the risks and causes of unwanted pregnancies, activists insist.
"It's not simply about telling women not to get pregnant. There are pregnancies that aren't planned, are imposed on women and girls and are the product of sexual abuse," Sara Garcia, a member of the Citizens' Coalition for the Decriminalization of Abortion in El Salvador, told Reuters.
Human rights campaigners in Colombia, where local officials urged women to delay pregnancies for up to eight months, have also slammed the government's recommendations. There are 560 known cases of pregnant women infected with the Zika virus in Colombia, which currently has the second-highest infection rate after Brazil.
"It's incredibly naive for a government to ask women to postpone getting pregnant in a context such as Colombia, where more than 50 percent of pregnancies are unplanned, and across the region where sexual violence is prevalent," Roa told Reuters.
Although contraception in the South American country is provided free, women (especially those in impoverished rural areas) have little access to it, according to the Colombian activist. She said that many women are unaware that they can get an abortion in Colombia under certain circumstances.
"In a crisis like the Zika outbreak, the lack of sexual education is exposed," Roa said, adding that "health ministries should inform, rather than recommend."
Jamaica, which has not reported any confirmed cases of Zika, has also advised women to delay becoming pregnant.
There's currently no vaccine for the Zika virus, which was first identified in Uganda in 1947 and was unknown in the Americas until 2014. About one in five people infected with the Zika virus will develop the most common symptoms of a fever, rash, joint pain, and conjunctivitis or red eyes, according to the US Centers for Disease Control and Prevention (CDC). A short illness may last from several days to a week, but in some rare cases, it can result in death.
Brazil has seen a surge in outbreaks of the fever since 2015. The country had seen an average of 150 babies a year born with microcephaly, but according to Brazilian health authorities, from October 2015 to January 2016 that number skyrocketed to more than 3,500.
In the US, "over a dozen" cases of Zika have been confirmed so far, the CDC said on Wednesday. Currently, one infant diagnosed with the condition in Hawaii is carrying the virus – the first case of Zika-connected microcephaly in the US. The CDC said that pregnant women in any trimester should consider postponing travel to the areas where transmission of the virus is ongoing. On Friday, the CDC added Barbados, Bolivia, Ecuador, Guadeloupe, Saint Martin, Guyana, Cape Verde, and Samoa to the list of travel destinations with Zika virus alerts.
Israel reported its first case of the virus earlier this week when it was found in a two-year-old girl returning from a visit to Colombia.
You can share this story on social media: