Zika virus: What you need to know about the latest global health scare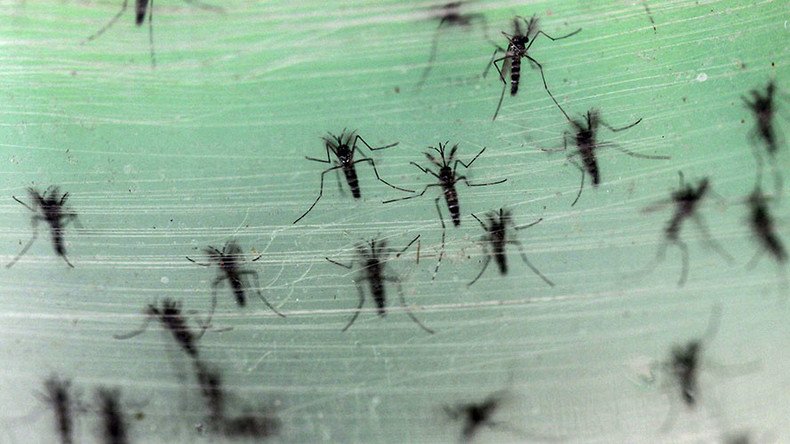 You may not have heard of it until very recently, but new cases of the Zika virus continue to pop up around the world. Spreading mostly in Latin America and the Caribbean, the virus has now been confirmed in three travelers from the UK.
A statement from Public Health England said those infected had recently traveled through South America, but it is not clear if the people involved have since returned to the UK.
The Britons travelled to Colombia, Suriname and Guyana, where they are suspected of contracting the mosquito-borne disease. Public Health England has not confirmed if any of the three are pregnant.
Why is Zika dangerous?
There is no vaccine for the virus, which can cause fever, rashes, joint pains, and conjunctivitis within days of being contracted. For most of those infected, the virus causes a short illness lasting between two and seven days. However, in some rare cases, it can result in serious illness and death.
Infants are most at risk from Zika, as mothers can pass the infection on to their fetus, leading to microcephaly – a rare birth defect where babies are born with abnormally small heads and developmental delays.
Health min in Brazil confirms four deaths from zika virus with another 46 deaths being investigated. Total number of suspected cases: 3,530

— Donna Bowater (@DonnaBow) January 13, 2016
Treatment for the Zika virus focuses on pain relief and fever reduction, with some patients also given antihistamines for itchy skin rashes.
Preventative measures focus on general mosquito bite prevention, such as using insecticides, and special nets and screens.
Where it came from
The Zika virus is mainly found in South America, Africa, the Pacific Islands, and Southeast Asia.
The virus was first discovered in Africa in 1947, circulating in humans, animals and mosquitoes with few documented outbreaks. In wasn't until 2007 that an Asian strain of the virus caused the first outbreak outside of Africa, in Micronesia. The same strain caused an outbreak in French Polynesia in 2013, which has since spread to the Pacific Islands and South America.
Within nine months of the first case being confirmed in the northeast of Brazil in May 2015, most Brazilian states had reported locally-acquired cases.
Brazil has seen a surge in outbreaks of the fever since 2015. The country had seen an average of 150 babies a year born with microcephaly, but from October 2015 to January 2016 that number rocketed to over 3,500, according to the Brazilian Ministry of Health.
In the US, "over a dozen" cases of Zika have been confirmed so far. Currently, one infant diagnosed with the condition in Hawaii is carrying the virus – the first case of Zika-connected microcephaly in the US.
READ MORE: Over a dozen cases of birth defect-causing Zika virus confirmed in 5 states
Israel reported its first case of the virus this week, in a two-year-old girl returning from a visit to Colombia.
The US Centers for Disease Control and Prevention (CDC) have expanded their list of countries currently under a Zika-related travel warning to 22: Brazil, Colombia, El Salvador, French Guiana, Guatemala, Haiti, Honduras, Martinique, Mexico, Panama, Paraguay, Suriname, Venezuela, Puerto Rico, Barbados, Bolivia, Ecuador, Guadeloupe, Saint Martin, Guyana, Cape Verde, and Samoa.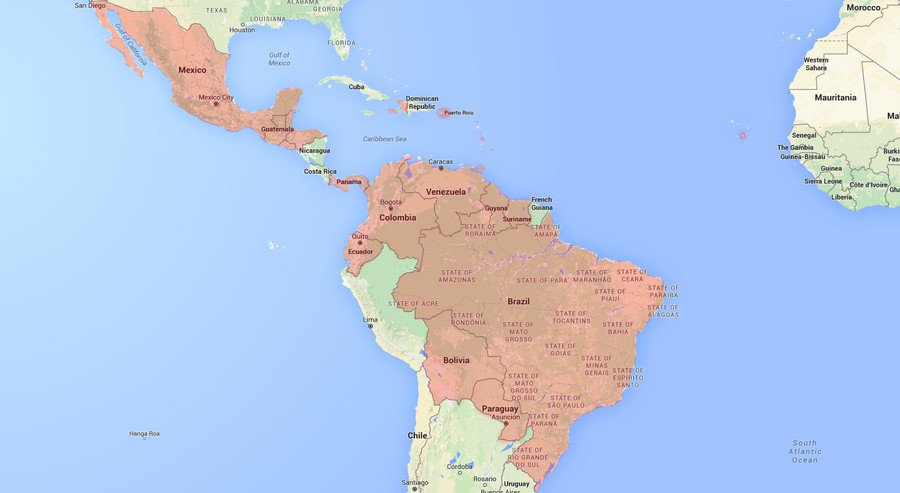 Public Health England has said it expects to see further cases of the virus spread internationally, especially "where the mosquito vector is present."
How Zika spreads
The virus is primarily spread to people through the bite of an infected mosquito. It cannot be spread through human contact, as Brazil's health ministry noted on Twitter.
However, a 2013 study found that in some circumstances, the virus could potentially spread through sexual intercourse.
The link between Zika and microcephaly has yet to be confirmed, but recent cases of infant deaths in Brazil – where doctors have been left with no explanation other than Zika – have been enough evidence for the CDC to target pregnant women with their warnings about the virus.
READ MORE: Genetically engineered mosquitoes battle Zika virus in Brazil
The Centers say that, although rare, a mother who becomes infected with the virus near her delivery date can pass the virus on to the newborn around the time of birth. However, they add "there are no reports of infants getting Zika virus through breastfeeding."
Affected countries have been taking a range of precautions to prevent the spread of the virus, such as fumigation in Venezuela and Honduras:
Meanwhile, authorities in Brazil are even considering introducing genetically engineered mosquitoes to help them combat Zika's spread.
You can share this story on social media: