China and Iran relations enter 'new chapter,' strategic ties to be expanded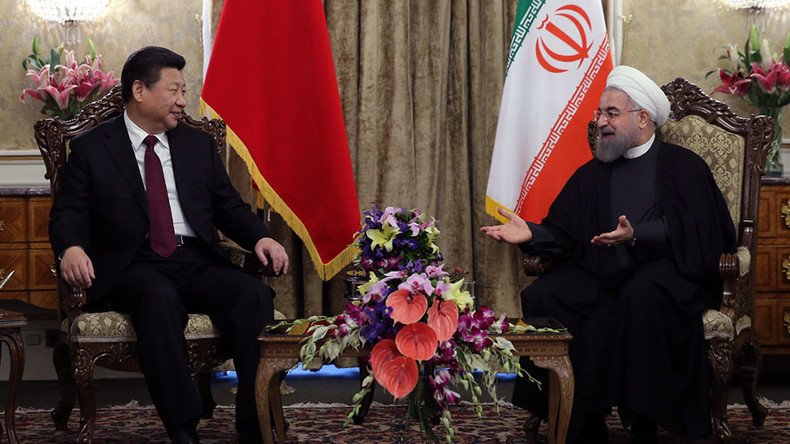 President Xi Jinping's visit to Iran – the first by a Chinese leader in 14 years – has resulted in 17 agreements being signed between the two countries, with Iran's President Hassan Rouhani saying this opens a new chapter in their relations.
The negotiations between Rouhani and his Chinese counterpart ended Saturday with the signing of 17 accords and agreements, including a number aimed at creating a modern version of the ancient Silk Road trade route, as well as cooperation in developing peaceful nuclear energy.
International sanctions imposed on the Islamic republic were lifted on January 16, after Iran fulfilled key aspects of a deal signed with global powers.
"The important visit by… President Xi Jinping… marks an important, historic event and I am sure that a new chapter has started in relations between Iran and China," Iranian media outlet Press TV cited President Rouhani as saying.
Xi Jinping also praised a new "prospect in relations between the two countries" that would serve "regional and global peace."
Beijing is seeking "strategic ties with Iran," particularly in the energy market, the Chinese president said, as quoted by Press TV.
A top oil consumer, China continued to buy Iranian crude even after international sanctions targeting Tehran's energy sector were introduced, according to Press TV.
"We are happy that President Xi visited Iran after the lifting of sanctions ... Iran and China have agreed to increase trade to $600 billion in the next 10 years," Reuters cited President Rouhani as saying during a televised news conference. As of 2014, transactions between Tehran and Beijing amounted to $52 billion.
"Iran and China have agreed on forming strategic relations (as) reflected in a 25-year comprehensive document," Rouhani also said, mentioning countering "terrorism and extremism in Iraq, Syria, Afghanistan and Yemen" as among the most burning issues.
The Chinese president is set to meet with Iran's spiritual leader, Supreme Leader Ayatollah Ali Khamenei, later on Saturday.
China's leader is on a Middle East tour that started on January 19, having already visited Egypt and Saudi Arabia.
You can share this story on social media: