EU, US lift Iran sanctions as UN watchdog says Tehran 'has kept nuclear promises'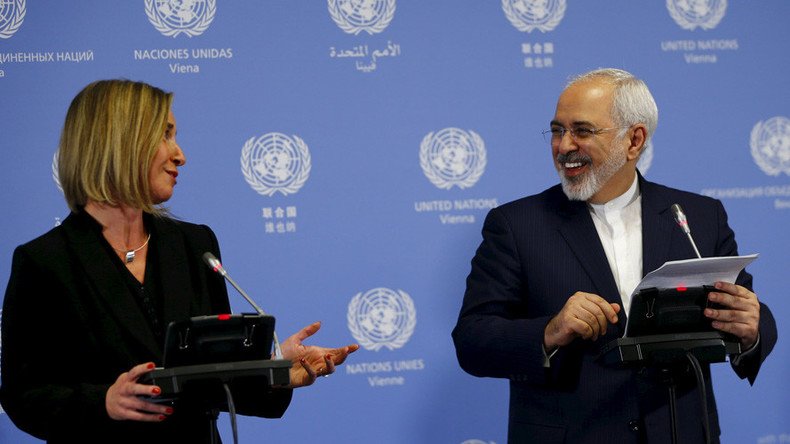 Western sanctions against Tehran have been officially lifted after the UN nuclear watchdog – the International Atomic Energy Agency (IAEA) – released a statement saying Iran has fulfilled all of the measures required under its deal with six world powers.
"The report was submitted to IAEA board of governors and to the United Nations Security Council," IAEA director general Yukiya Amano said on Saturday, adding that "it was issued after agency inspectors on the ground verified that Iran has carried out all measures required under the JCPOA to enable implementation day to occur."
"The release of the IAEA director's report on Iran's nuclear program inaugurates the beginning of the implementation of the Joint Comprehensive Plan of Action [JCPOA]," Russia's foreign ministry said in a statement.
The JCPOA, known as Iran's nuclear deal, was signed between Tehran and six world powers (the so-called P5+1 group comprised of China, France, Russia, the UK, the US and Germany) on July 14, 2015. The deal saw Iran agreeing to shrink its atomic program, with the US, EU and UN promising to lift sanctions in return.
Multilateral and national economic sanctions on Iran's nuclear program will be lifted within hours, EU foreign policy chief Federica Mogherini announced on Saturday, following the release of the IAEA statement.
"Today we have achieved Implementation Day of the Joint Comprehensive Plan of Action," Mogherini told reporters in Vienna.
An executive order revoking US sanctions against Tehran has been issued by US President Barack Obama, Reuters reported.
Guidelines detailing the sanctions lifted have been issued by the EU and US, Mogherini added.
To finalize the process of lifting EU sanctions, an official decision is required by the European Council with the participation of the leaders of all 28 EU members states, Reuters reported. A publication in the EU's Official Journal is also necessary, but the procedure should be rapid, according to the news agency.
Iranian President Hassan Rouhani congratulated his nation in a tweet: "Implementation Day – I thank God for this blessing and bow to the greatness of the patient nation of Iran. Congrats on this glorious victory!"
The IAEA certification of Tehran keeping its obligations will allow Iran to immediately recoup some $100 billion in assets frozen overseas, AP reports.
The US Treasury Department has announced that it will permit foreign subsidiaries of American firms to operate in Iran.
The sanctions lifted by the US included a ban on commodities trade for non-Americans, Reuters reported. More specifically, non-US citizens will now be permitted to trade with Iranian government institutions, as well as sell goods and services, such as steel, gold, coal, vehicles and insurance to the country, according to the US Department of Treasury.
The US has so far lifted only "secondary sanctions" against Iran, which means American citizens are still banned from trading with Iran, the US Department of Treasury said. In addition, while some 400 Iranian companies and individuals are to be removed from the US sanction list, 200 others remain blacklisted.
Meanwhile, America's decades-old ban on exporting civilian passenger aircraft to Tehran has already been lifted. The move was announced prior to the implementation of Iran's historic nuclear deal with world powers. "That should happen relatively soon, certainly in the coming days. That is when sanctions relief is initiated," US Deputy National Security Adviser Ben Rhodes said Friday.
Earlier this week, Iranian and US officials confirmed that Tehran's Arak heavy water reactor had been disabled after its core was removed and concrete was poured into its central vessel.
The reactor core was capable of producing weapons-grade plutonium, and its fate was a major point of disagreement during the negotiations between six leading world powers and Iran.
According to the agreement, the reactor is to be retrofitted with the help of foreign specialists to be used for research projects and the production of medical radioactive isotopes.
In the meantime, oil majors Total and Shell have sent senior executives to Tehran ahead of the expected lifting of sanctions, according to Iran's Mehr news agency. They are set to meet with officials from Iranian state oil companies on Sunday.
The news also comes just days after two US Navy boats were seized by Iran after straying into the country's territorial waters, after one of them allegedly suffered a mechanical failure. Ten US Navy troops were briefly held before being released by Iran's Revolutionary Guards Corps.
READ MORE: Washington Post reporter Jason Rezaian & 4 others freed in Iran prisoner swap deal – reports
Iran has also freed five prisoners, four of them with dual Iranian-US nationality, including Jason Rezaian, a Washington Post reporter who was arrested in Tehran more than a year ago, the Tehran public prosecutor said on Saturday.
"In line with orders from the Supreme National Security Council and in the national interest, four Iranian dual national prisoners have been released in a prisoner swap," Abbas Jafari Dowlatabadi was quoted as saying by Iranian news agencies.
Moreover, the US was expected to free seven Iranian nationals, IRNA news agency said, naming them as Nader Modanlo, Bahram Mechanic, Khosrow Afghahi, Arash Ghahreman, Tooraj Faridi, Nima Golestaneh, and Ali Sabouni. According to AP, they have already arrived in Tehran.
You can share this story on social media: