China supports East Jerusalem as capital of sovereign Palestinian state – President Xi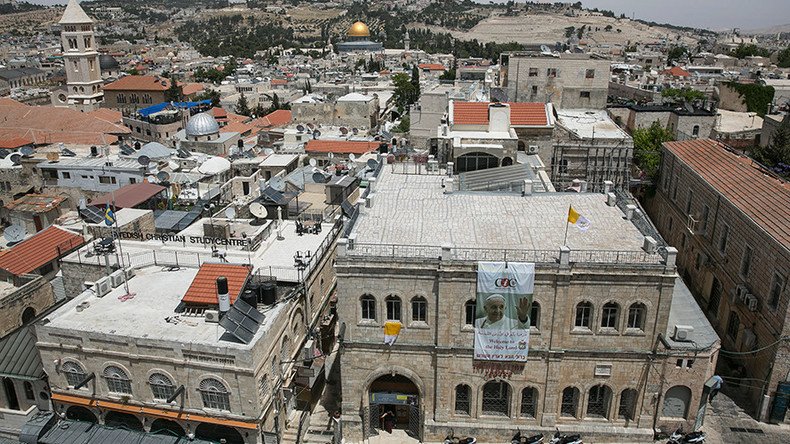 China has openly declared that it supports the independence of a Palestinian state which has East Jerusalem as its capital. Addressing the Arab League, the Chinese president also announced a $7.6mn grant for a solar power project to improve Palestinians' well-being.
Speaking for the first time at Arab League headquarters in Egypt, Chinese President Xi Jinping stressed that the Palestinian issue should not be marginalized, as he declared Beijing's support for the Palestinian peace process.
"China firmly supports the Middle East peace process and supports the establishment of a State of Palestine enjoying full sovereignty on the basis of the 1967 borders and with East Jerusalem as its capital," Xi told the Arab League's delegates.
The fate of Jerusalem is one of the key issues in the Israeli-Palestinian peace process. Both Israel and the Palestinians want the historic religious cradle as their capital. The United Nations considers East Jerusalem to be occupied Palestinian territory, but hopes that one day Jerusalem can become the capital of two states, Israel and Palestine.
While both Israel and Palestine declared Jerusalem their capital, Palestinians usually refer to East Jerusalem as the capital of their independent state, implying that if Jerusalem is one day shared between the states, West Jerusalem could serve as the capital of Israel.
Israel however refuses to share custody of the Holy City, which it annexed in 1967. In May 2015, Prime Minister Netanyahu reiterated, that Israel "will forever keep Jerusalem united under Israeli sovereignty."
To make Israeli claims stronger, the Jewish state is continuing to build settlements in East Jerusalem that are illegal under international law.
Israeli-Palestinian confrontations have been escalating in Jerusalem with near-daily clashes between stone-throwing Palestinians and Israeli riot police. The violence that erupted in mid-September over tensions at Jerusalem's holiest site quickly spread across Israel, the West Bank and Gaza. Over the past four months, Palestinian attackers have killed at least 24 Israelis while some 145 Palestinians were killed by Israeli fire.
Xi however stressed that the Palestinian issue should not "fall into oblivion" as it is of fundamental importance to peace in the Middle East. The Chinese leader stressed that the international community should promote the resumption of the talks that collapsed in April 2014.
In the meantime to aid the Palestinian economic hardship, Beijing promised to provide 50 million Chinese Yuan ($7.6 million) in the form of a grant to support solar power station project in its territories.
You can share this story on social media: