Lions, bears kept in horrifying conditions at abandoned Armenian zoo (VIDEO)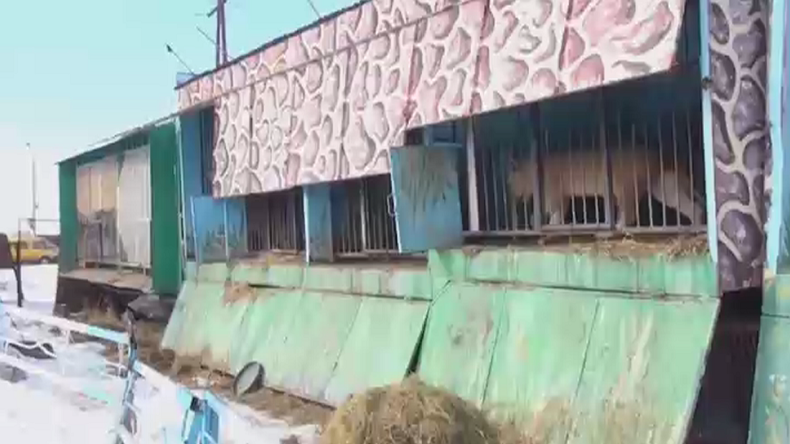 Animal rights activists have launched a petition urging authorities to save animals living in horrifying conditions at an Armenian zoo, which was left abandoned after the private initiative turned out to be unprofitable and the animals were left to a sorry fate.
A petition calling for people to "help free lions and bears stuck in tiny cages from Armenia's worst zoo" was posted on change.org. In a disturbing video, which recently emerged online, the animals could be seen trapped in tiny cages, clearly trying their best to survive.
Hungry animals are banging their heads inside the cages in despair. The zoo inhabitants have been forced onto a diet of starvation and feed on slaughterhouse leftovers.
The were animals reportedly brought from Russia by a local "oligarch" who wanted to found a zoo in the Armenian town of Gyumri, but the initiative turned out to be a bust. In an interview with Aravot.am last year the zoo director, Stepan Vardanyan, literally pleaded with the government to take action to save the animals.
"The animals are now in very poor conditions. We tried requesting help from the government… They may not be able to survive," Vardanyan said, noting that he had asked authorities to move the animals to a zoo in the capital, Yerevan.
READ MORE: Danish zoo dissects lion in front of spectators, incl children (GRAPHIC VIDEO)
Local residents were grateful to have been given an opportunity to see rare species without going to "Africa, India or to any jungle", while acknowledging that for the animals it would be much better if they were free. But now, that the initiative has failed, they have also called on the government to help save them from starvation.
"We don't help these animals because we can't, there should be some money for it," one local resident said. "Only the government or officials can provide funds that are needed."
You can share this story on social media: