Nigeria ex-pres used $2bn meant to fight Boko Haram for failed re-election bid – minister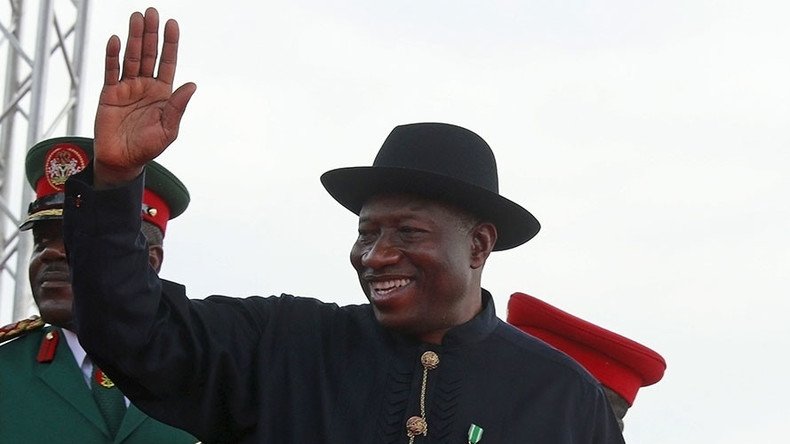 A group of 55 people, including cabinet ministers, state governors, bankers and businessmen stole $6.8 billion from Nigeria's public coffers over seven years, a minister has claimed. The sum includes $2.1 billion meant to fight terrorist group Boko Haram.
"If we don't kill corruption, corruption will kill Nigeria," Information Minister Lai Mohammed said on Monday. He failed to provide any proof to support the figures or identify any of the alleged thieves, however.
Boko Haram is among the most violent terrorist groups in the world, raiding villages and towns in Africa, sending suicide bombers to attack Christian churches and committing other acts of violence. The insurgency led by the group has claimed the lives of an estimated 20,000 people over the past six years.
The minister said ex-president Goodluck Jonathan's People's Democratic Party (PDP) diverted $2.1 billion meant to buy weapons to fight Boko Haram for Jonathan's failed election campaign.
The alleged embezzlement took place between 2006 and 2013. Jonathan lost the March 2015 election to Muhammadu Buhari, a 73-year-old former military ruler, who returned to power on a promise to halt corruption and violence in the oil-rich country.
According to a breakdown provided by Mohammed of the stolen funds, the other $742.42 million was embezzled by 15 governors, $2.65 billion by bankers and $35.35 million by four former ministers.
Mohammed was speaking in the capital Abuja as he launched a corruption awareness campaign. He denied the PDP's allegation that the government of President Buhari is conducting a witch hunt against the opposition.
Nigeria, one of the world's leading oil producers, has suffered for years from endemic corruption. In the early 2000s, the country was regularly ranked by Transparency International as among the 10 most corrupt countries in the world, although since then the situation has improved somewhat.
You can share this story on social media: