Swine flu grips Russia: Hundreds hospitalized, first deaths recorded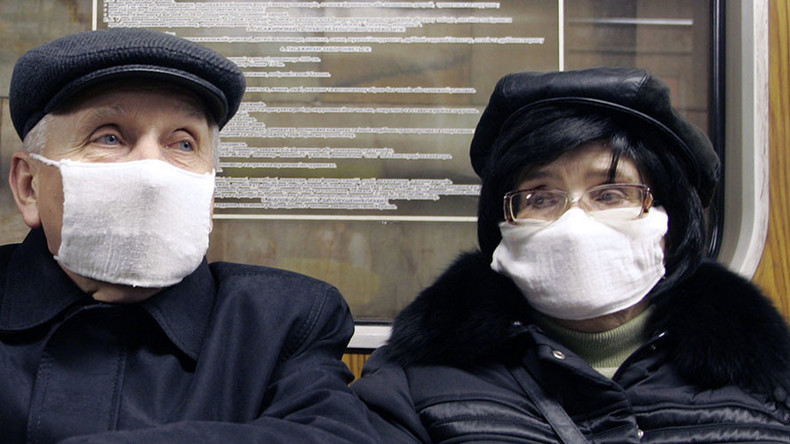 Although doctors say that the outbreak of AH1N1 flu in Russia is "seasonal", many are finding little solitude in this: In St. Petersburg alone, more than 100 people have been taken to hospital and several deaths have been reported.
"The number of swine flu cases is higher than before," Tatyana Zasukhina, a health official in Saint-Petersburg, told TASS news agency Monday. "There have also been several deaths among those diagnosed with flu. Those were people who suffered serious complications."
Over 500 people have been taken to hospital with flu symptoms in the city branded Russia's "northern capital", and 123 turned out to have swine flu.
Since the beginning of the year, at least 10 people have died of the virus and the subsequent pneumonia it causes, according to the Flu Research Institute's estimates. Media reports state that there have been new deaths almost every day in central, western and southwestern parts of the country.
A 50-year-old patient in Yekaterinburg, in Russia's Urals region, died of the deadly virus on Monday, while a 44-year-old woman is currently in intensive care. Several hospitals in the region as well as in the neighboring Khanty Mansiysk region have been placed under quarantine.
In Volgograd, southern Russia, four people have been killed by the virus, while in Adygeya, also in the south of the country, six people have died. In North Ossetia, several schools and kindergartens have suspended activities due to the flu outbreak, reports Rossiyskaya Gazeta.
While in Russia the spread of the flu is still beyond epidemic levels, reports of an increase are also pouring in from across the globe.
Up to 16 people have been killed by the deadly disease in Armenia, according to PanArmenia.net. Residents of Cyprus have been warned not to panic despite a few people showing signs of swine flu.
Also, a few days ago, a school boy in Stoke-on-Trent, UK, was reported to have demonstrated signs of the illness, reported the Telegraph.
The AH1N1 virus strain was first discovered in the 1930s. It is termed swine flu as it is very similar to flu viruses that affect pigs.
Symptoms of swine flu include a cough and a fever which lead to rapid pneumonia and possible respiratory failure. Swine flu is contagious and spreads in the same way as seasonal flu via tiny droplets in air and on surfaces contaminated by the infected person coughing or sneezing.
It is recommended that people see the doctor as quickly as possible when symptoms are first identified. They include fever, fatigue, coughing and sore throat – and at times vomiting and diarrhea.
In 2009, over 150,000 people died from the same virus strain, scientists concluded. While in 2015 the disease hit India affecting over 31,000 people and claiming more than over 1,800 lives.
You can share this story on social media: