Bird flu outbreak recorded outside restriction zone in France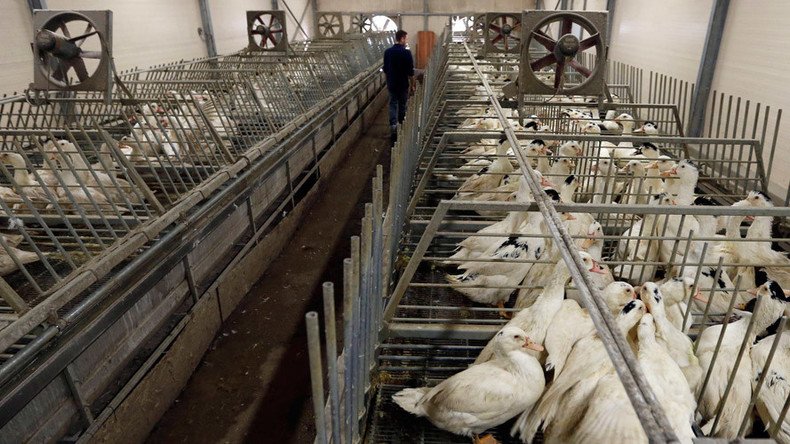 A bird flu outbreak has been recorded in France outside a restriction zone that was established earlier by the Ministry of Agriculture. French authorities have recently introduced sanitary measures to tackle the highly pathogenic virus.
Authorities have recorded at least 69 outbreaks of the H5N1 strain of avian flu in eight administrative districts in southwestern France since November 24.
"One new case was found in Haute-Garonne," a farm ministry official said, as cited by Reuters. The district was not included in the restriction zone. The outbreak was detected in a town of Lafitte-Vigordane, according to French press.
So far the broad restriction zone includes the districts of Dordogne, Gers, Lot, Haute-Vienne, Landes, Pyrenees-Atlantiques and Hautes-Pyrenees. The whole of Gironde and Lot-et-Garonne, and parts of the Correze and Charente districts are also included in the list, according to Reuters.
In December, authorities said that new cases of highly pathogenic avian flu have recently been detected in poultry in southwestern regions of France. Special protection zones stretching for between 3 to 10 kilometers around the farms have been set up until the epidemic ceases.
France then tightened its grip on sanitary regulations and limited the movement of poultry in the southwestern regions, as the virus is usually spread by people or cars that come into contact with infected birds' feces. Avian flu cannot be transmitted to humans through food.
China and Japan ‒ the world's largest importer of foie gras ‒ have restricted the supplies of poultry products, birds, animals and eggs brought in from the whole of France after the announcement of the outbreak.
The last full-scale avian flu epidemic, which affected about 64 farms in France, occurred in 2006. Some isolated cases appeared in the eastern district of Moselle in 2007.
You can share this story on social media: