New bird flu outbreak: More than 60 farms in France infected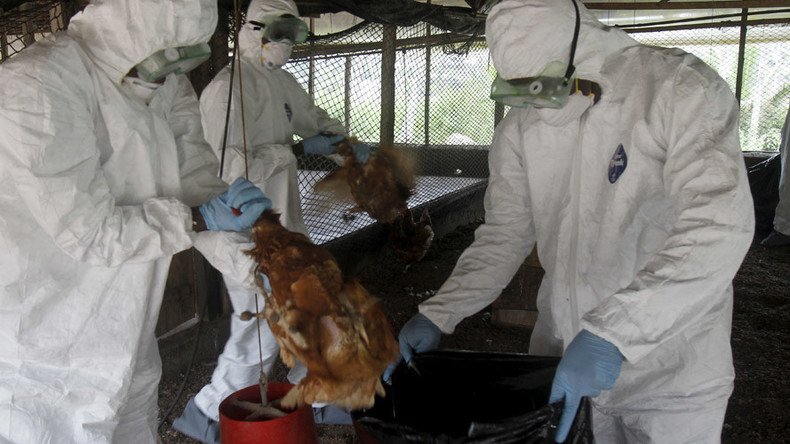 New cases of highly pathogenic avian flu in poultry have recently been detected in south-western regions of France, forcing authorities to step up sanitary measures.
The total number of confirmed cases of contamination with the virus in France has risen to 61, according to a statement from the French Ministry of Agriculture. The statement was published on Tuesday.
🔴GRIPPE AVIAIRE 8 nouveaux foyers identifiés dans les Landes. 61 foyers désormais touchés dans le sud-ouest

— infos140 (@infos140) December 22, 2015
Special protection zones stretching for between 3 to 10 kilometers around the farms have been set up until the epidemic ceases, a decree published in the Official Journal said.
There is currently no evidence that the virus is transmitted to humans through birds' eggs, meat or foie gras, the World Health Organization (WHO) and the European Centre for Disease and Control (ECDC) stated.
However, on Friday France tightened its grip on sanitary regulations and limited movement of poultry in the south-western regions, as the virus is usually spread by people or cars that come into contact with birds' feces.
"The new measures are aimed at sanitizing in an effective way poultry production across a wide zone, and at providing all necessary guarantees to EU and non-EU countries that import French poultry birds and meat," the ministry said in a statement.
China and Japan, the world's largest importers of foie gras, have restricted the supplies of poultry products, birds, animals and eggs from the whole of France after the information on the outbreak was revealed.
Iraq has also joined the two countries by banning all fresh and frozen poultry imports from France, Reuters reports.
The first case of avian flu in eight years was detected in the south-western department of Dordogneis on November 24, with the departments of Landes, Haute-Viene, Gers, Pyrénées-Atlantiques and Hautes-Pyrénées later becoming affected as well, the statement said.
The last full-scale avian flu epidemic, which affected about 64 farms in France, occurred in 2006. Some isolated cases appeared in the eastern department of Moselle in 2007.
You can share this story on social media: