Russia halts transit of US poultry - food safety watchdog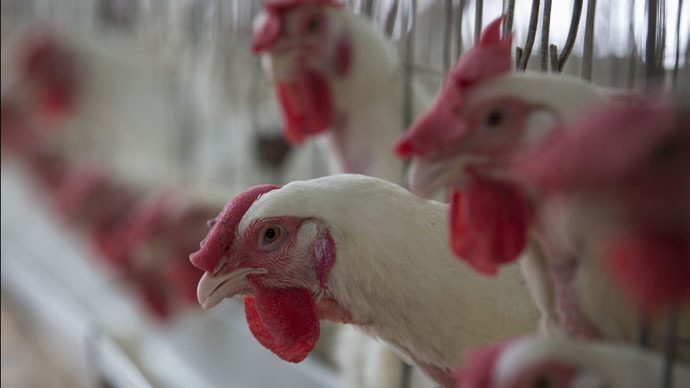 Russia is stopping the movement of US poultry through the country from June 10, in an effort to halt re-importation. There have been 157 cases of bird flu in 17 states, which has resulted in the slaughtering of 33.3 million chickens.
READ MORE: Whataburger cracks: Cuts breakfast hours due to egg shortage from bird-flu
The transit ban comes after Russian stopped importing US poultry on December 5. Russia's food safety watchdog Rosselkhoznadzor found "harmful residues and illegal substances," including antibiotics, in the products. December's ruling didn't forbid the transportation of poultry to Eurasian Economic Union countries.
"This decision was made due to the fact that the US is at the centre of a bird flu infection and we have seen facts of American transit products returning to our market," the head of Rosselkhoznadzor Sergey Dankvert told Interfax.
Rosselkhoznadzor spotted US poultry, coming from Kazakhstan, in Siberian regions. A ban on transit is being introduced until the issue is settled with neighboring countries, said Dankvert.
Russia may also prohibit the transit of fish and fish products from Lithuania, Latvia and Estonia, Dankvert added.
How the bird flu outbreak impacts Nebraska & Iowa consumers: http://t.co/28zs9u14Tepic.twitter.com/IAOglz1XwW

— Omaha World-Herald (@OWHnews) May 30, 2015
The Russian transit ban was imposed after the World Organisation for Animal Health (OIE) discovered the highly contagious Н5N1, Н5N2 and Н5N8 strains of bird flu in the US.
A H5N1 strain can be contracted by humans and can increase its spread.
You can share this story on social media: