Out of NATO? Thousands call for membership referendum in Montenegro, opposition says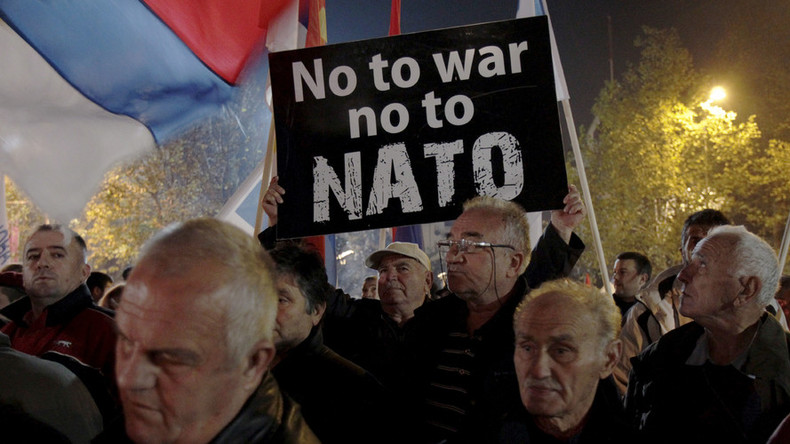 An anti-NATO petition calling for a referendum on the country's accession to the alliance has gathered "tens of thousands of signatures," claim opposition leaders. The number obtained may already be enough to make the government conduct the ballot.
After the government in Podgorica willingly accepted NATO's formal invitation to join the military bloc issued on December 2, the opposition, which had been staging street protests against the move, turned their attention to legal action.
There could be four different ways to trigger a national referendum under Montenegrin legislation. It could be organized at the request of the president, the government, an initiative from 25 lawmakers or via a petition from 10 percent of the registered voters, which is 52,806 citizens of Montenegro as of now.
The petition urging the government of Prime Minister Milo Djukanovic to hold a referendum on NATO accession was launched on December 29 by the Socialist People's Party (SPP).
A source told RIA Novosti that the number of signatures collected has already reached 55,000 as of January 16, but the SPP is set to continue the campaign.
"We have collected tens of thousands of signatures in 27 SPP offices across Montenegro. Due to the huge interest of the citizens, we will continue efforts to collect signatures calling for a referendum on Montenegro's NATO membership," SPP leader Srdan Milic told RIA Novosti.
Milic believes that the petition will collect many more signatures than are needed legally, but refused to make the exact figures public citing agreement with the Democratic Front, an opposition movement that has pledged full support to the initiative.
The decision of the Montenegro cabinet sparked protests in the capital, Podgorica, in early December, when the Democratic Front organized some 5,000 of its supporters to take to the streets to protest against NATO membership. Among other issues, the demonstrators were demanding PM Milo Djukanovic's resignation.
Milic told RIA Novosti that in case the government ignores the petition and denies the citizens their constitutional right to a referendum, the political situation in Montenegro could be destabilized even further. NATO is still to formally accept the country into its ranks.
The latest opinion poll conducted by the local Damar agency showed that 47 percent of Montenegrins are in favor of the NATO bid, AP reports. A furtherme 39 percent are against it, while 14 percent are undecided.
You can share this story on social media: