Ecuador gives Swedish prosecutors green light to question Assange at its London embassy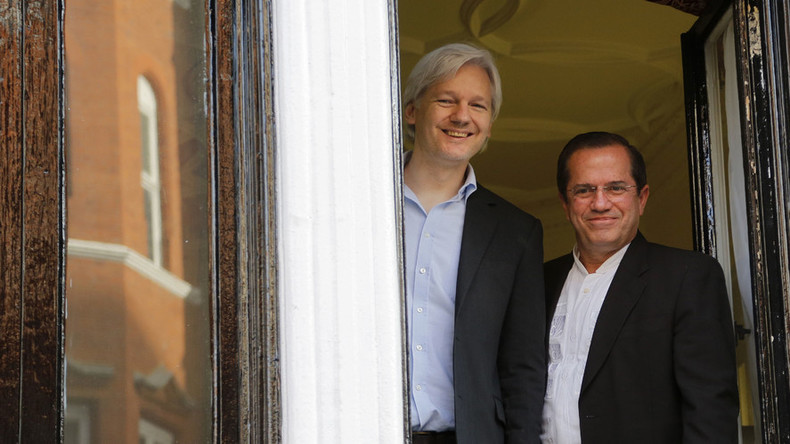 Swedish prosecutors may finally question Julian Assange over a six-year-old rape allegation, as Ecuador says it has granted permission to a request for such an interview filed by Sweden this week, provided Ecuador's laws are respected.
Sweden confirmed on Wednesday that it had formally requested permission to interrogate the famous whistleblower at the Ecuadorian embassy, following an agreement signed by the two countries last month establishing general legal cooperation between them.
READ MORE:Ecuador seals deal with Sweden to question Assange at London embassy
Ecuador's Foreign Minister, Ricardo Patino, told the Publica national radio station on Friday that the country was granting Sweden's request to interrogate Assange "as long as the sovereignty of the Ecuadorian state and the laws in the constitution are respected," AP reported.
He suggested that Swedish authorities could provide their Ecuadorian counterparts with the questions and they could be asked in the presence of a Swedish prosecutor.
Patino also confirmed in the radio interview that Assange will be free to leave his hideout in Ecuador's London embassy and live in Ecuador if Swedish prosecutors do not charge him following the interview.
"If they don't charge him, he can leave. We hope we won't have any problem with the United Kingdom. He would likely come to Ecuador, because he has already been granted asylum in our country," he said.
Assange has been living in the Ecuadorian embassy in London for over three years.
Ecuador granted Assange asylum in 2012 after he sought refuge at its embassy while facing extradition to Sweden.
The 44-year-old Australian refuses to travel to Sweden to face questioning over rape allegations, saying he fears he would then face extradition to the United States and trial for leaking hundreds of thousands of classified US military and diplomatic documents in 2010.
Swedish prosecutors dropped a sexual assault probe against Assange in mid-August after the five-year statute of limitations expired. They still want to question him, however, about a 2010 rape allegation, which carries a 10-year statute of limitation.
Assange has denied all of the allegations, saying the sexual encounters had been consensual.

READ MORE:Swedish prosecution drops 2 of 4 allegations against Assange due to statute of limitations expiry
Sweden has refused to question Assange in the Ecuadorian embassy for years, despite Assange offering to give his statement there.
"Julian has been offering his statement to the prosecutor by various means for five years [in total] and for three-and-a-half years since he went into the embassy – whether via video link or by the prosecutor coming to London," Kristinn Hrafnsson, a spokesman for WikiLeaks, told the Guardian after the latest development.

"Let's hope [the interview] can be carried out as soon as possible. Julian is very eager to get his point of view into the investigation," he said.
British police guarded the Ecuadorian embassy 24 hours a day for over three years.
The permanent guard was removed by Scotland Yard in October, saying it was no longer "proportionate," after racking up £12.6 million in costs to taxpayers.
A date has not yet been set for the interrogation.

"When all necessary permits and arrangements are ready, the interview will be performed by the supporting prosecutor to the case, chief prosecutor Ingrid Isgren, together with a police investigator," the Swedish Prosecution Authority said.
You can share this story on social media: