Ecuador seals deal with Sweden to question Assange at London embassy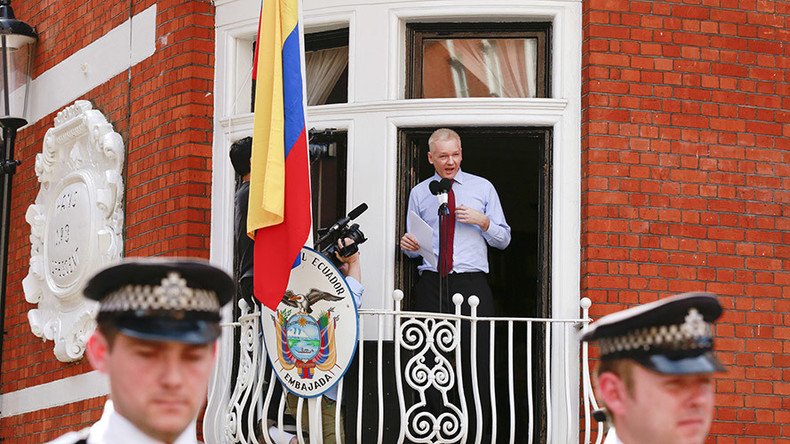 Ecuador and Sweden have finally sealed an agreement that will allow the WikiLeaks founder to be questioned by Swedish authorities in Ecuador's embassy in London, where Julian Assange has been holed up for more than three years.
The agreement was signed in Quito, Ecuador's capital, after six months of negotiations.
"It is, without doubt, an instrument that strengthens bilateral relations and will facilitate, for example, the fulfillment of judicial matters such as the questioning of Mr Assange," the foreign ministry said in a statement.
"This is essentially a deal on legal assistance on a criminal matter, and when it is finalised later this week it will open the door for the Swedish state prosecutor to question Mr Assange," Swedish Justice Ministry official Cecilia Riddselius told AFP on Sunday.
The UK has already agreed to provide legal assistance for the questioning, which may take place in the coming weeks.
Assange has been stuck inside the Ecuadorian embassy since he took refuge there in June 2012 to avoid extradition to Sweden. He was granted asylum by the Quito government over fears that the Australian might eventually be extradited to the United States.
In Sweden, Assange is wanted for questioning by the authorities regarding allegations of sexual assault against two women in 2010, which he has always denied. Assange fears that if he goes to Sweden he will eventually face tribunal in the US for publishing classified documents through Wikileaks. Sweden has refused to guarantee that this would not happen.
In 2013, Chelsea Manning was sentenced to 35 years under the Espionage Act for leaking military documents to WikiLeaks. The documents included the infamous Collateral Murder video, which showed the US military killing dozens of civilians, including two Reuters staffers.
In August, Swedish prosecutors said they would drop the investigation into two allegations of sexual molestation and one of unlawful coercion as the statute of limitations had run out. One outstanding allegation of rape remains, which Assange will still be questioned about.
Two women reported to a Swedish police station in August 2010. They both had sex with Assange and later found out about one another. They asked police how they could force Assange to take a HIV test.
Later that day, an investigation was opened over allegations of rape and assault. The investigation was originally dropped for lack of sufficient suspicion. A second prosecutor picked up the case.
No charges have been brought about.
In an affidavit, Assange shared text messages obtained by his lawyers from the phone records of the girl who Assange is accused of raping. She said she "did not want to put any charges on JA but that the police were keen on getting a grip on him."
Another text read that she was shocked when they arrested Assange as she only wanted him to take a test. The phone records cited by Assange allegedly said that she "did not want to accuse JA for anything" and that "it was the police who made up the charges."
You can share this story on social media: