Snow place like home: The world's most badass winter cities (PHOTOS)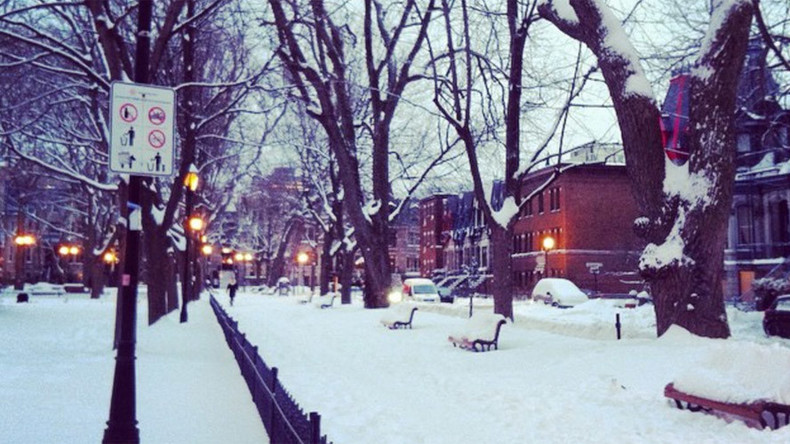 Winter has arrived with a vengeance in much of the northern hemisphere, and with it comes the friendly rivalries between the hardiest – and most badass – cities.
Our international team of journalists scoured the internet for the best examples of character-building snowy metropolises and turned up some pretty spectacular images.
Moscow, Russia
Temperatures have been steadily decreasing since the New Year and Russia's capital finally had its first proper snowfall of the season, which dropped up to 25 centimeters of the white stuff (9.8 inches) this week.
Montreal, Canada
Like Moscow, the average winter temperature in Métropole du Québec hovers around zero degrees Celsius, but in the land of the cold-weather nectar called maple syrup, snow isn't enough to slow commuters down, whether getting around via bus or bicycle.
Chicago, USA
Windy City winters dip below zero Fahrenheit (-18 Celsius) on a regular basis and a former mayor lost re-election for not properly removing 21 inches (53.34 cm) of snow that piled up in less than two days. One winter brought more than 80 inches and in 1985, temps bottomed out at -27 F (-33 C) with a wind chill of -77 F (-60 C). Despite the certainty of wild weather, these fowls failed to fly far enough south this winter and instead had to learn how to ice skate.
Duluth, USA
It's hard to say how much Bob Dylan's birthplace influenced his music, but the answer to what's blowin' in Duluth's wind is sunrise sea smoke. And you might meet some foxy friends while exploring brownstone ice caves on frozen Lake Superior, the world's largest freshwater body.
Marquette, USA
East of Duluth, also along the shores of Lake Superior, snow falls in November and melts in March. In between, this Upper Peninsula Michigan city endures sub-zero temperatures and waves tall enough for surfing.
One human polar bear, simply known as Surfer Dan, regularly braves the elements and gets an icy beard like Santa Claus. This alone makes Marquette pretty badass. Oh, and did we mention the frickin' laser beams on the snow plows?
Fargo, USA
They say that somewhere under all the snow is $920,000, but Fargo's more than just a fictional film and TV series. It's North Dakota's biggest city where pizza delivery drivers make $20 an hour thanks to the recent oil boom. While the black gold won't last forever, the white stuff comes back year after year.
Tromsø, Norway
The only city on this list inside the Arctic Circle, it's hard to melt the snow when there's no sun. That doesn't mean the sky is completely dark though, as the Northern Lights put on quite a show. And if you're feeling particularly badass, camping is free.
Sapporo, Japan
The only Asian city on the list was the first city outside Europe and North America to host the Winter Olympics and has its own badass snow festival every February.
Buffalo, USA
Lake effect snow can make this rust belt city in upstate New York beautiful, assuming you can see more than an inch in front of your face. And if you get too cold, you can always warm up with their famous hot wings.
Edmonton, Canada
While Calgary deserves an honorable mention for the largest indoor pedestrian network in the world, Edmonton is 300 kilometers to the north and has a 13 kilometer network of climate-controlled links through most of its downtown. They also have an ice castle and a cross-country ski rack at light rail stations for those who prefer to commute outside.
You can share this story on social media: