Iran releases 10 US sailors detained over territorial waters breach (PHOTOS)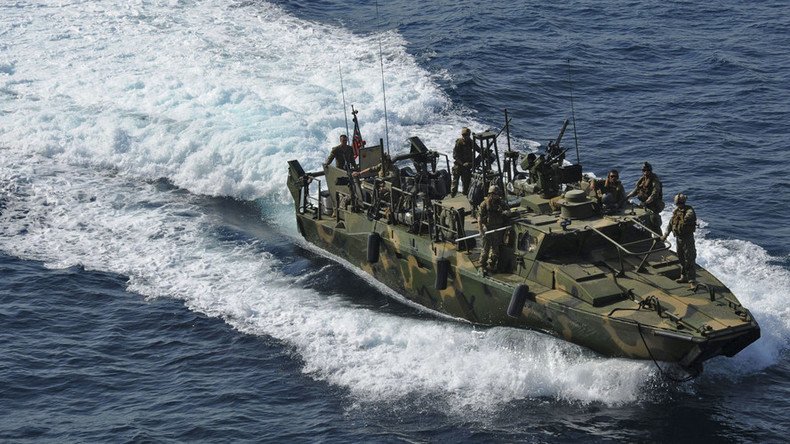 Iran's Revolutionary Guards Corps has released 10 US Navy troops who were detained after their armed boats strayed into Iranian territorial waters. The Islamic Republic's military are convinced the incident was caused by faulty navigation equipment.
Iran's army chief, Major General Hassan Firouzabadi, said the boat incident should be a warning to hawks in Washington.
"This incident in the Persian Gulf, which probably will not be the American forces' last mistake in the region, should be a lesson to troublemakers in the US Congress," he was quoted as saying by Tasnim news agency.
Rear Admiral Ali Fadavi, the chief of the Islamic Revolutionary Guards Corps' Navy, said a US aircraft carrier deployed to the region had acted "provocatively" in the wake of the incident.
READ MORE: Two US Navy boats in Iranian custody - Pentagon

He also said that Iranian Foreign Minister Javad Zarif had demanded a formal apology from US Secretary of State John Kerry for the breach of Iranian sovereignty.
Commenting on the resolution of the conflict situation, Kerry thanked Iran for the prompt release of the sailors.
"I want to express my gratitude to Iranian authorities for their cooperation in swiftly resolving this matter," he said in a statement. "That this issue was resolved peacefully and efficiently is a testament to the critical role diplomacy plays in keeping our country safe, secure, and strong."
Two US boats armed with machine guns were detained about a mile into Iranian territorial waters, reportedly after one of them suffered a mechanical failure.
Last month, the US condemned Iran for conducting tests of a ballistic missile system in the Strait of Hormuz, saying the USS Harry S. Truman aircraft carrier and the USS Bulkeley destroyer were in proximity.
READ MORE: US releases video it says shows Iranian rockets fired near American aircraft carrier
The incident comes at a crucial moment for the nuclear deal between Tehran and six leading world powers, as Iranian nuclear scientists are about to disable the Arak heavy water reactor, paving the way for the lifting of economic sanctions on the Iranian oil industry.
Implementation day – the point at which Iran has sufficiently complied with the terms of the agreement to trigger the lifting of UN nuclear sanctions – should be in the next few days, Kerry said in a speech Wednesday at the National Defense University in Washington, DC.
You can share this story on social media: