US releases video it says shows Iranian rockets fired near American aircraft carrier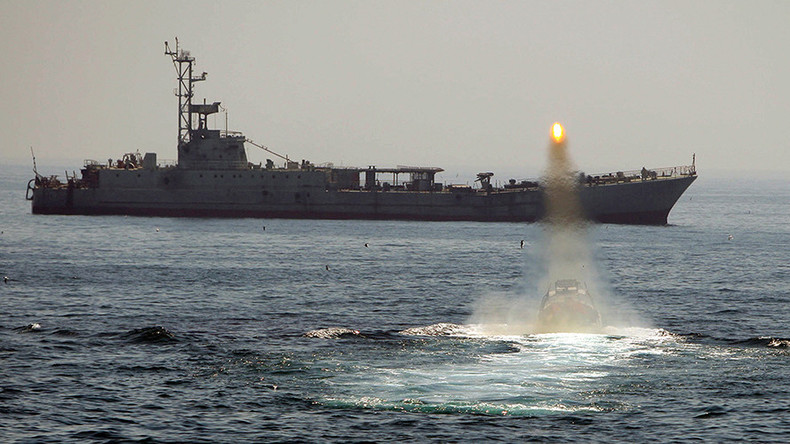 The US Navy has released footage purportedly showing the Iranian Navy firing unguided rockets in the strategic Strait of Hormuz near the Harry S. Truman aircraft carrier and other Western warships and commercial vessels.
The 45-second black and white video shot from a Seahawk helicopter reportedly shows "fast inshore attack craft" of the Iranian Revolutionary Guard firing rockets close to the Harry S. Truman aircraft carrier, the USS Bulkeley destroyer, the FS Provence French naval frigate and some commercial ships on December 26. The video was declassified in response to a Freedom of Information Act request.
Washington first reported the incident in late December, saying that prior to live-fire exercise Iran gave a 23-minute warning over maritime radio. The US has slammed the unguided rocket drill as "unsafe."
The rockets "passing coalition ships and commercial traffic within an internationally recognized maritime traffic lane is unsafe, unprofessional and inconsistent with international maritime law," Commander Kevin Stephens, a spokesman for the US Navy's Fifth Fleet, said at the time. The US Central Command called Iran's actions "highly provocative."
Tehran immediately rejected the US report, calling it "psychological warfare," saying Iranian naval forces had not conducted any exercises in the Strait of Hormuz.
"The publication of such false news under the present circumstances is akin to psychological warfare," Ramezan Sharif, the Guard's spokesman said.
On Saturday, in a statement released with the video, Stephens said that despite the "provocative" incident most interactions with Iran forces in the area were "professional, safe, and routine."
You can share this story on social media: