Real-time takedown: Helmet cam shows blasts & gunshots in blockbuster-style El Chapo police raid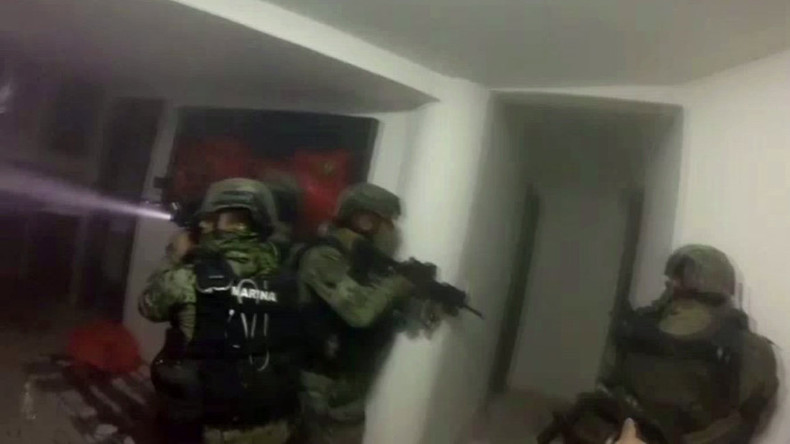 It doesn't get much more dramatic than this: the operation to recapture notorious Mexican drug lord Joaquin "El Chapo" Guzman has been caught on police bodycam Hollywood-style – complete with plumes of smoke, gunshots and heavily armed men everywhere.
READ MORE: Mexico to extradite notorious drug lord 'El Chapo' to US
The raid, dubbed "Operation Black Swan," went down at a house in the town of Los Mochis, Sinaloa, on Friday morning, after the authorities got a tipoff about El Chapo's hideaway. The 15-minute video of the operation was released Monday.
Elite Mexican marines faced resistance from a dozen of El Chapo's guards, armed to the teeth and ready to die for their boss. Five people were killed and one marine was wounded in a shootout.
The marines are heard giving orders as they advance, and a wounded man says at one point: "They got me."
The notorious drug lord is not seen in the footage, as he reportedly escaped the house via underground tunnels, but was finally captured by the marines Saturday.
Two armored vehicles, eight long rifles, one handgun and a rocket-propelled grenade launcher were seized in the operation.
El Chapo (or "Shorty" in Spanish), the head of the Sinaloa cartel, has been viewed as Mexico's top drug lord.
READ MORE: Sean Penn interview helped catch notorious Mexican drug lord 'El Chapo'
The US Drug Enforcement Administration has gone further, calling him the biggest drug lord of all time. He was wanted by Mexico, Interpol and the US, which had offered a $5 million reward for any information leading to his capture.
Guzman was first arrested in 1993 and spent almost a decade in a maximum-security prison near Mexico City before escaping in 2001. After 13 years on the run, he was recaptured in 2014.
However, in July 2015 El Chapo made headlines after a new prison break. He escaped through a 1.5-kilometer long, 10-meter deep tunnel dug from within his cell, despite being incarcerated in the country's highest-security federal prison.
The tunnel from the facility led to a half-constructed empty house in nearby fields. He reportedly paid as much as $50 million in bribes to organize his escape.
His latest jail break sparked one of the largest manhunts in Mexico's history and sparked widespread criticism about the government's ability to keep the drug lord in prison.
You can share this story on social media: