Sean Penn interview helped catch notorious Mexican drug lord 'El Chapo'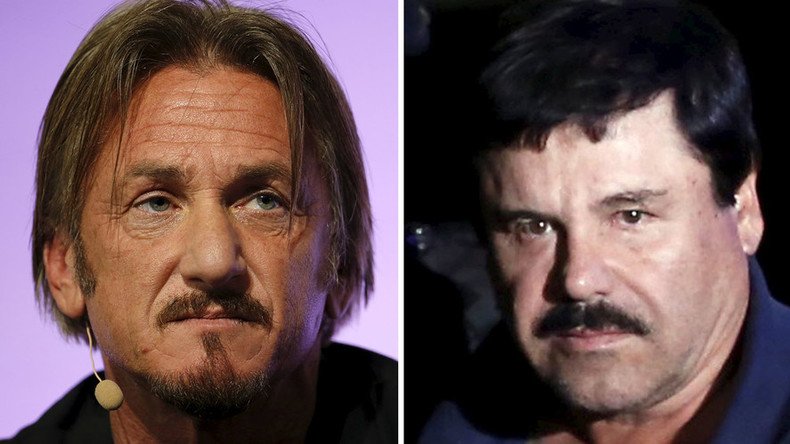 An interview the Hollywood actor Sean Penn had with Joaquin 'El Chapo' Guzman helped authorities re-capture the Mexican drug kingpin, it has emerged.
In the talk, published in Rolling Stone on Saturday, Guzman said he had sent tunnel engineers to Germany for training before his truly movie-like escape through a 1.5-kilometer underground tunnel.
The engineers had to learn how to dig safely next to "the low-lying water table" beneath the prison facility.
The interview also features footage of Guzman wearing a colorful shirt and a black cap against a rural scene.
Penn called it "the first interview El Chapo had ever granted outside an interrogation room," as quoted by Reuters.
The drug lord didn't hesitate to tell Penn that he "supplies more heroin, methamphetamine, cocaine and marijuana than anybody else in the world," and runs "a fleet of submarines, airplanes, trucks and boats."
The talk was brokered by Mexican actress Kate Del Castillo, who played a drug queen in a popular local TV soap opera.
The Mexican authorities caught wind of the interview and monitored it.Now Mexican authorities want to question Penn as well as Castillo over the interview.
"That is correct, of course, it's to determine responsibilities," an unnamed official said without going into further details, The Telegraph reported.
Penn also fell under fire in the US with a White House spokesman saying that the "so-called interview" was "maddening" and Republican Marco Rubio regarding it as "grotesque".
Guzman was caught in his home state of Sinaloa on Friday, six months after he escaped from a maximum-security prison near Mexico City.
On Wednesday and Thursday, after a month of surveillance, authorities determined the drug kingpin was inside the house they had been staking out.
Early on Friday, the marines started an operation to capture 'El Chapo'. They were met with gunfire, with five suspects killed and six others detained. One marine was wounded in the operation, AP reported.
Guzman fled via storm drains and used a manhole to get to the street, but was later caught in a vehicle on the highway and arrested.
Mexican authorities are now looking to extradite the notorious drug lord – who escaped twice from the same Mexican jail – to the US. Guzman faces drug and murder charges there.
You can share this story on social media: