16 intercontinental drills: Russian missile forces to double test launches in 2016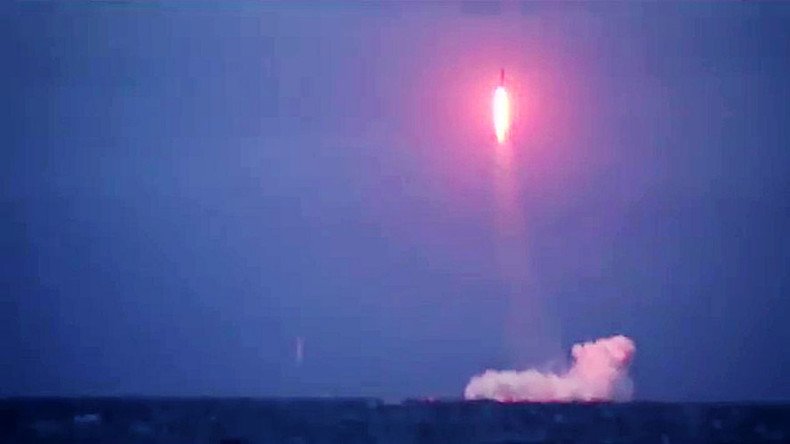 Russia's missile corps plans to conduct 16 intercontinental ballistic missile launches this year, a two-fold increase from 2015. Over 100 command, tactical and special exercises will be held to maintain maximum readiness throughout the year.
"The drills are going to be conducted in a tense and complicated environment, with the involvement of interacting joint force grouping," the Defense Ministry reported on Sunday.
Out of a total 16 launches, 14 will be performed as part of the development of new missiles and warheads, Strategic Missile Troops Commander, Colonel General Sergey Karakayev, told journalists earlier. Two launches will form part of a service life extension program of existing systems.
Some of the test launches are likely to be dedicated to the development of the RS-28 Sarmat, Russia's newest heavy liquid-propelled intercontinental ballistic missile. It has been engineered to replace the old Soviet R-36M missiles, dubbed 'Satan' by NATO, as the heavy silo-based component of the Russian nuclear deterrent. The Sarmat missile has been in development since 2009 and is scheduled to start replacing the old ICBM's in 2018.
Missile Troops spokesman, Major Dmitry Andreev, said in early January that in 2016 Russia's missile troops are planning to test about 160 new weapons, twice as many as in 2015.
The new arms will be tested for all Russia's military forces at the Missile Troops primary test range in Kapustin Yar, a huge territory of 9.5 million hectares in Southern Russia. It sprawls across four of the country's regions.
The last time a major test was conducted at Kapustin Yar was on December 24, when an RS-12М Topol strategic intercontinental missile was fired towards the Sary-Shagan firing range in Kazakhstan.
READ MORE: US missile shield unable to repel massive Russian ICBM attack – chief of strategic missile forces
Russian strategic missile forces, formed on December 17, 1959, consist of 40 regiments and support and security units. About 500 operational crews made up of approximately 6,000 personnel remain on duty at all times.
Missile forces are armed with six principal types of missiles: three stationary silo-based versions and three mobile ones.
You can share this story on social media: