US missile shield unable to repel massive Russian ICBM attack – chief of strategic missile forces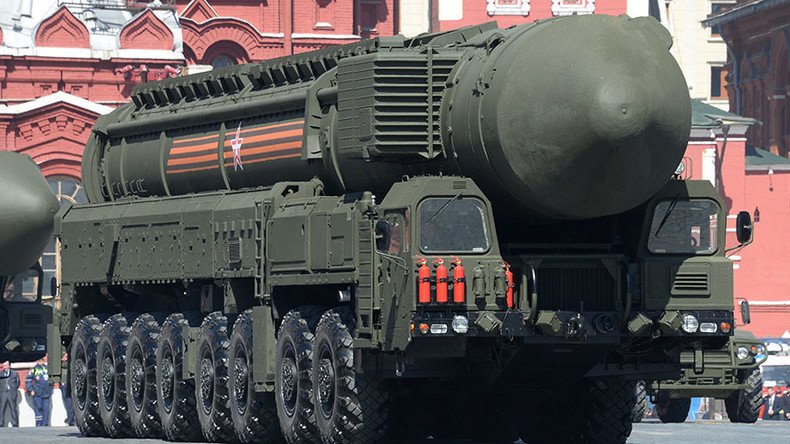 The existing US missile shield is incapable of withstanding a massive strike of Russian nuclear intercontinental ballistic missiles (ICBMs), the commander of Russia's Strategic Missile Troops told a press conference.
The analysis of Russian military experts has found that "neither the firepower potential, nor the data computing capacity of the currently deployed US missile defense" installations could deal with a swarm attack of the Russian nuclear triad, Strategic Missile Troops Commander, Colonel General Sergey Karakaev, told journalists Wednesday.
He pointed to the estimates of American experts who believe an effective missile defense system must consist of various integrated types of missile interception means, be it kinetic or laser systems, deployed in all environments, including in space. Such multi-layered defense would be able to engage missiles in the air and warheads in space.
The long-term development plans of Russia's Strategic Missile Troops have been corrected to take into consideration the predicted scale and pace of US missile defense development, the general said.
The Strategic Missile Troops plans to introduce some "brand new and effective means and techniques to penetrate any missile defense system," General Karakaev said, stressing that Russian ballistic missiles are capable of engaging targets "anywhere in the world."
Next-gen ballistic missiles with breakthrough characteristics, carrying new means to penetrate ABM systems, would "guarantee to neutralize emerging potential threats," Karakaev said.
Modern ICBMs currently account for up to 56 percent of the nuclear arsenal and by 2022 all outdated ballistic missile systems are going to be replaced with new ones, Karakaev said. He has been informed that research and development work for the new heavy intercontinental ballistic missile system, Sarmat, has been completed and next year full-scale tests are set to begin at the Plesetsk military cosmodrome.
Every year, a minimum of four to five missile regiments of Yars mobile systems are entering service, Karakaev reported. In June, President Vladimir Putin announced that Russia would add 40 new-generation intercontinental ballistic missiles to its nuclear arsenal in 2015.
READ MORE: Putin: 40+ ICBMs targeted for 2015 nuclear force boost
The design stage of the Barguzin "missile train" system has also been completed and the project is entering the next, engineering, stage, Karakaev said.
Strategic Missile Troops have conducted seven test launches in 2015, with one experimental missile operation remaining by the end of December. Next year the number of missile launches will be increased twofold, to 16 tests.
READ MORE: Russia to double strategic arms tests at central range in 2016 – Defense Ministry
A new integrated automated system to be installed at Strategic, Missile Troops installations beginning 2016 would allow, among many other new features, to perform operative changes of mission for ballistic missiles.
This year American survey teams inspected the Strategic Missile Troops installations 12 times, General Karakaev said. Washington and Moscow exchange data on the current state of the national strategic nuclear weapons twice a year, on March 1 and September 1, he added.
Karakaev said he sees no need to deploy strategic missiles with conventional warheads against the terrorists of Islamic State, saying it would be irrational since "every target deserves its own effective and suitable killing agent."
At the same time, Karakaev pointed out that the use of ballistic missiles would be carried out with authorization of the supreme commander, the president of Russia.
"In case there is a political decision, the Strategic Missile Troops are ready to execute any assigned mission," Karakaev said.
You can share this story on social media: