Topol turns 30: Missile launcher parade & 'fuel-from-thin-air' system (DRONE VIDEO)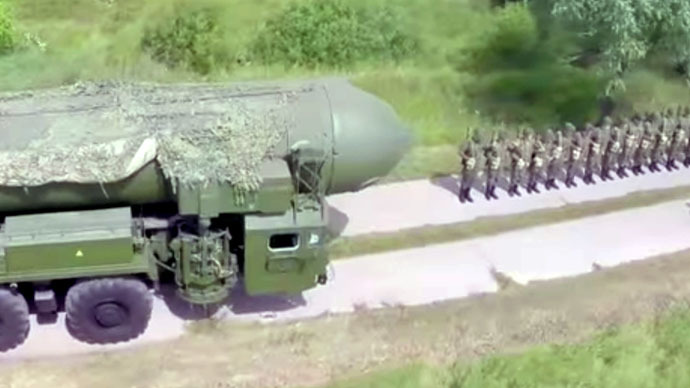 Russia's strategic missile forces conducted drills in Moscow region to mark the 30th anniversary of the deployment of the iconic Topol missile system. The exercises showcased a unique innovative system capable of extracting missile fuel "from thin air."
Russian strategic missile forces began major drills on Tuesday in the city of Serpukhov, located some 90 kilometers from Moscow. Drone footage shot by RT's RUPTLY video agency shows the columns of KamAZ trucks and missile launchers.
The exercises in the region surrounding Russia's capital were centered on Topol-M intercontinental ballistic missiles. Scenarios practiced during the drills included responding to a terrorist attack, and entering a chemically contaminated area. The troops were also required to activate operational launchers as quickly as possible, and had to deal with a malfunction of one of the launcher's wheels.
READ MORE: Pantsir-S1 missiles fired at Russia's air defense competition (VIDEO)
During the drills, a unique cutting-edge mobile system called "Kaskader" ("Stuntman") was rolled out. According to Yuri Dmitriev, the deputy director of Geliymash, it has "no analogues" in the world and is destined to supply strategic missile troops and military air forces with material for missile fuel.
The system's deep freeze technology makes it possible to extract liquefied and gaseous nitrogen and oxygen from the air at pressures reaching 400 atm.
"The system has passed the state tests, and in 2016 the research and production association is set to proceed to its mass production," Dmitriev told Zvezda TV-channel.
The exercises were held a week ahead of the 30th anniversary of the introduction of the legendary missiles. The first model was put on alert on July 23, 1985. Later, the system was upgraded to Topol-M class, which boasts a range exceeding 11,000 kilometers. Since 2010, they have been gradually being replaced by Yars missiles.
READ MORE: Moscow will respond to NATO approaching Russian borders 'accordingly' – Putin
You can share this story on social media: