Domino effect: Sweden, Denmark introduce border checks to handle refugee flow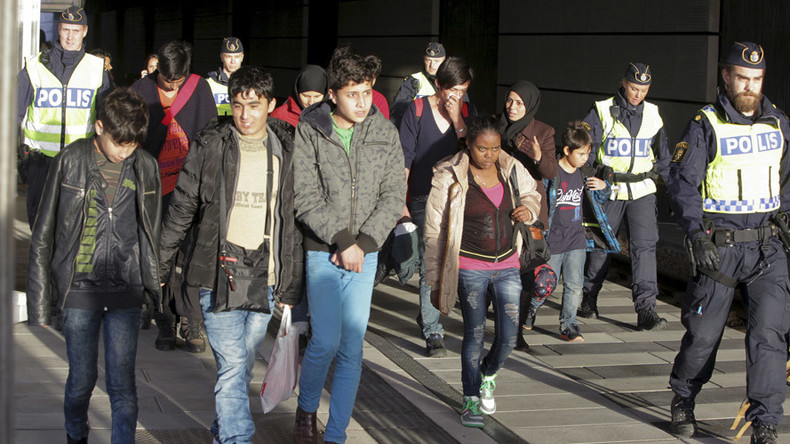 Sweden and Denmark tightened border controls on Monday to cope with the flow of refugees coming through Germany, delivering yet another blow to the idea of a European Union without state lines.
The measure had an almost instant effect as just a single refugee arrived by train across the bridge-and-tunnel link from Denmark by midday Monday, Ewa-Gun Westford, a Swedish police spokeswoman, said.
During the peak of the migrant crisis in autumn, over 1,000 asylum seekers crossed the bridge to Sweden on a daily basis.
This is the first time that border checks between Sweden and Denmark have been introduced since the 1950s.
The Danish side suggested that the Swedes should pay 1 million kroner ($145,000) for the ID checks, carried out by train operators in Denmark.
"Some of the cost is due to the ID control. Other costs are due to the loss of income, because we have a decreasing amount of passengers because of this," Tony Bispeskov, spokesman for Danish train operator DSB said, as cited by AP.
The border checks by Sweden "could have the effect of preventing individuals from exercising the right to seek asylum," outgoing UN High Commissioner for Refugees, Antonio Guterres, warned when Stockholm announced the new rules in December
READ MORE: Asylum-seekers in Sweden demand relocation in fear of ghosts
Just 12 hours after the Swedish move, Denmark itself stepped up border controls with Germany.
"The government doesn't want Denmark to become a new big destination for refugees," Lars Loekke Rasmussen, Danish Prime Minister, said.
According to the PM, Swedish ID checks "could lead to more refugees and migrants being stopped on their journey northward, and therefore ending up with us in Denmark."
However, he specified that the Danish would only be limited by "spot checks" on passengers on trains crossing the border on the Jutland peninsula and on ferries arriving in the Danish ports of Gedser and Roedby.
"We are not talking about controlling everyone coming in from Germany," Rasmussen explained, adding that there would be no problem in crossing the border for "ordinary" Danes and Germans.
Over 190,000 migrants crossed the German-Danish border last year, with 13,000 applying for asylum in Denmark and others traveling further to Sweden, Norway and Finland, he said.
READ MORE: Dead end: Swedish railway operator suspends trains from Denmark over inability to check IDs
The prime minister added that "you will see more and more countries forced to introduce temporary border controls" due to the European Union being unable to protect its outer borders.
Over a million refugees from Syria, Iraq and Afghanistan have arrived in the EU in 2015 by crossing the Mediterranean to Greece or Italy, causing chaos in the 28-nation block.
Germany will carefully monitor the Danish border controls to evaluate "whether and how this affects migration northward from Germany," Johannes Dimroth, Interior Ministry spokesman, said.
Berlin introduced border controls with Austria in mid-September to deal with the flow of refuges.
You can share this story on social media: