Dead end: Swedish railway operator suspends trains from Denmark over inability to check IDs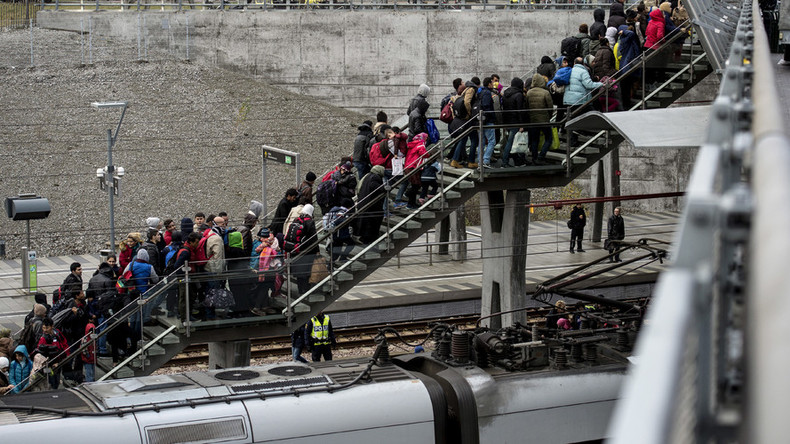 Swedish transport operator SJ announced that it is halting all trains crossing the border from Denmark, as it cannot abide by the mandatory ID-checks introduced by the Swedish government in an attempt to limit the influx of illegal migrants and refugees.
"Due to the introduction of a new law that requires ID border checks on all travelers crossing the border into Sweden, no SJ trains will be running between Denmark and Sweden as of 4th January 2016," SJ says in a statement.
The company explained that it has no capacities to carry out the checks quickly enough so it has no other choice but stop the services "until there is a working solution in place."
The statement followed the adoption of a law requiring identity checks on all transport coming to Sweden from January, 4. According to the law transport companies will be fined if their passengers enter Sweden without photo ID.
Swedish officials foresaw railway traffic difficulties caused by the law but insist that this measure has no alternative.
"It will be more difficult and it will affect the frequency (of trains) but that should always be weighed against: what is the alternative if we do not act?" Swedish Migration Minister Morgan Johansson said at a press conference on December, 9.
"We have hit our limit [on accepting migrants]. Denmark has not," he added.
Denmark has expressed its dissatisfaction with the Swedish decision saying it may affect many people who cross the Oresund Bridge between two countries every day to reach the workplace.
"…And what is coming now is that one is implementing instruments that will in reality force the development in the Oresund Region backwards, with a risk of lost jobs and prosperity," Denmark's Prime Minister Lokke Rasmussen said in an interview to the Danish TV2 News.
Denmark has accepted about 18,000 migrants and refugees since the beginning of the year while Sweden is expected to take in around 190,000 asylum seekers by the end of the year.
You can share this story on social media: