Poland could back UK migrant benefit cuts in exchange for more NATO troops - FM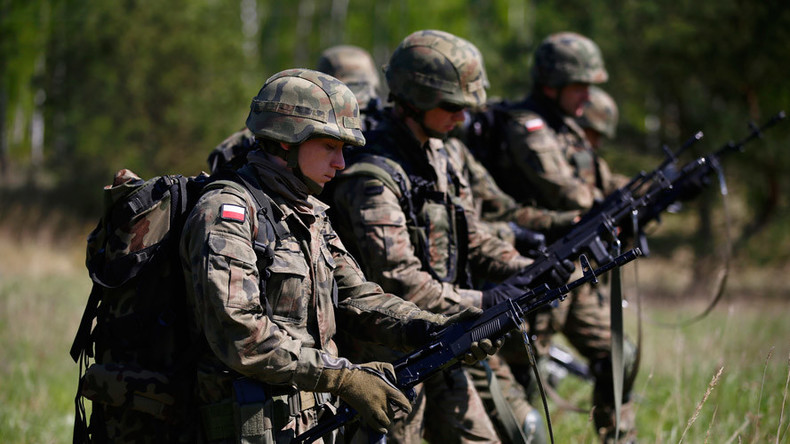 Poland, once a staunch opponent of British plans to curb in-work benefits for EU migrants, could now support the UK government in welfare cuts if London helps bolster NATO presence in central Europe against "Russian aggression."
Polish Foreign Minister Witold Waszczykowski told Reuters in an interview that Warsaw might soften its opposition to David Cameron's proposal, which is part of the British EU membership negotiations.
"We're aware that the British welfare system is very elaborate and that it may not be able to bear it [the payment of in-work and child benefits to EU migrants]," Waszczykowski said.
"Britain could support our expectations related to an allied military presence on Polish territory."
Cameron's deadline for an in-out referendum on Britain's UK membership was set for the end of 2017, but recently he suggested the vote may take place in 2016.
Poland will host a NATO summit in July, where it hopes to secure what it calls additional security measures against Russia, including deployment of troops and military hardware in the region. With time running out, Warsaw hopes to link the two issues.
"We still consider ourselves a second-class NATO member state, because in central Europe ... there aren't, aside from a token presence, any significant allied forces or defense installations, which gives the Russians an excuse to play this region," Waszczykowski continued.
In 2014, Poland's then-foreign minister said he wanted NATO to deploy two heavy brigades – usually between 3,000 and 5,000 troops – on Polish territory when the unrest in Ukraine unfolded. NATO was at first unwilling to station troops permanently, though many "rotational" deployments, including that of the US, are taking place all across Baltic and Eastern European countries.
READ MORE: Polish Defense Minister denies wanting US nukes after deputy says otherwise
Cameron's government wants a four-year delay for all EU migrants – including some 700,000 Poles, who make up the largest immigrant community in Britain – before they can start claiming in-work and child benefits.
Waszczykowski said Poland would try to compensate for any benefit cuts for Poles in the UK by offering a monthly cash allowance for families with children incentivizing them not to emigrate.
Since the Ukrainian crisis, NATO has launched a "rethinking" of relationships with Moscow, most notably by starting deployments and massive military exercises outside Russia's borders. Moscow says any deployment of troops or military supplies would violate the 1997 Russia-NATO founding act that commits the alliance not to place significant combat forces in the countries of the Soviet-era Warsaw Pact, of which Poland was a member.
In December, Lt Gen Ben Hodges, commander of US Army Europe, said Washington planned to set up maintenance sites for equipment caches in Bulgaria, Latvia, Lithuania, Poland, Romania and Estonia by late 2016, and in Hungary in 2017.
You can share this story on social media: