Polish Defense Minister denies wanting US nukes after deputy says otherwise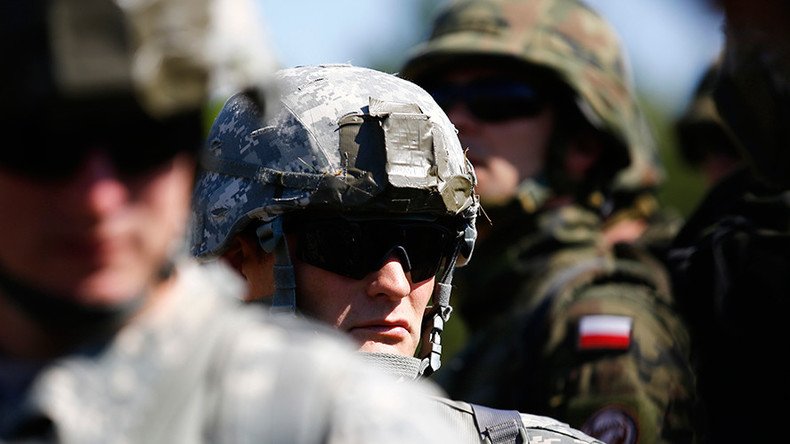 The Polish Defense Minister has denied his country is seeking to deploy US nuclear weapons on its territory. The idea was mentioned by the minister's deputy on Saturday.
The NATO alliance allows non-nuclear countries to borrow US missiles.
Deputy Defense Minister Tomasz Szatkowski made the statement during an interview with the private Polish broadcaster Polsat, as cited by AP. He said that the ministry is contemplating whether to ask for access to the nuclear sharing program, which would allow Warsaw to boost its defenses with nukes.
This is the first time that a Polish official has voiced an intent to host nuclear weapons on the country's soil.
However, the Polish Defense Ministry issued a statement on Sunday that Warsaw has not asked for and is not looking to host NATO nuclear weapons on its territory.
Former Polish Defense Minister Tomasz Siemoniak (2011-2015) said that talks about his country's possible participation in the Nuclear Sharing program had tainted the nation's image.
"The last few days have become a great pity for Poland's credibility. The world is looking at us. If we continue to hold a debate on access to nuclear weapons, the allies will not lend even a PlayStation, let alone serious weapons," Siemoniak said.
Three NATO member states possess nuclear arsenals of their own: France, the UK and the US. Other countries could take part in the US-led Nuclear Sharing program, which involves hosting part of the US nuclear arsenal on a country's territory in return for that country receiving training on how to handle and put to use nuclear weapons.
Poland has been one of NATO's staunchest allies, since joining the alliance in 1999. It has also been keen to establish further links and in September Poland's parliament gave the green light to President Andrzej Duda to ratify a technical agreement on establishing a US anti-missile base in Redzikowo. Under the NATO-backed plan, the facility should be operational by 2018.
The agreement in question is a part of a much-debated NATO-backed plan that was first agreed on by the US and Poland in 2008. At that time, it was claimed that the base was necessary to counter the risk of a possible missile attack from Iran or North Korea. However, an agreement has been reached with Tehran about a peaceful end to Iran's nuclear ambitions.
"We all probably remember that in April 2009 in Prague [US] President [Barack] Obama said that if the Iran nuclear program issue is sorted out, then the task of creating the European segment of the missile defense system would disappear," Russia's foreign minister, Sergey Lavrov, said adding that Washington's missile defense plans had no justification anymore.
After winning the Polish presidential election in May, one of Duda's first moves was to call for more NATO troops to be stationed in the country.
"We do not want to be the buffer zone. We want to be the real eastern flank of the alliance … Today, when we look at the dispersion of bases … then the borderline is Germany," the conservative Polish President told The Financial Times in August.
"NATO has not yet taken note of the shift of Poland from the east to the west. NATO is supposed to be here to protect the alliance … If Poland and other central European countries constitute the real flank of NATO, then it seems natural to me, a logical conclusion, that bases should be placed in those countries," he added.
However, if the plan does go ahead, it is likely to produce a fierce rebuke from Moscow. Russian President Vladimir Putin said in June that if NATO threatens Russia, Moscow will respond to the threat accordingly.
"If someone threatens our territories, it means that we will have to aim our armed forces accordingly at the territories from where the threat is coming. How else could it be? It is NATO that approaching our borders, it's not like we are moving anywhere," he said.
You can share this story on social media: