Uproar in Middle East after Saudi Arabia executes top Shiite cleric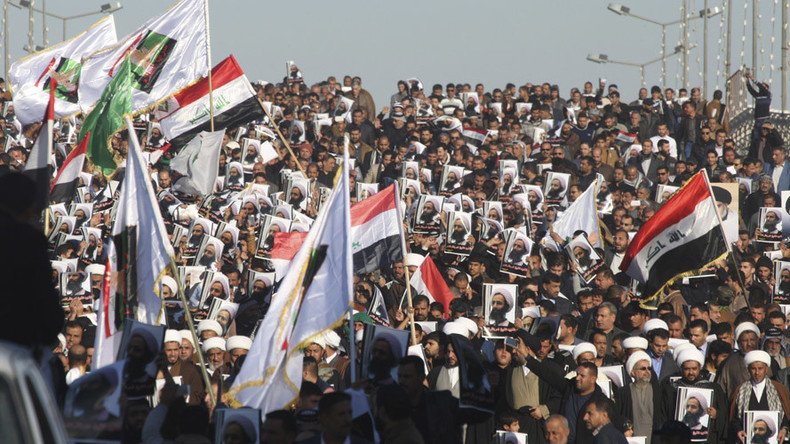 Shiite Muslims across the Gulf region have reacted with disgust and condemnation after Saudi Arabia executed a leading Shiite cleric, Sheikh Al-Nimr, on terror charges Saturday. He was one of the 47 people who were put to death.
10 January 2016

14:07 GMT

Saudi Arabia's Foreign Minister Adel al-Jubeir has accused Iran of undermining regional security and interfering in other states' affairs. Jubeir blamed the crisis on the Iranian policy "with its interference in the affairs of the states and instigation of sectarian strife."

Tehran "is shaking [the Arab region's] security and stability," Reuters quoted the minister as saying on Sunday at an emergency Arab League session in Egypt's Cairo. It was convened to discuss growing tensions in the region.

At the emergency talks requested by Riyadh, the Arab League Chief Nabil al-Arabi accused Tehran of "provocative acts" and called on diplomats to "adopt a strong and clear common position calling on Iran to stop all forms of interference in the affairs of Arab nations," as cited by AFP.

All participating countries apart from Lebanon condemned Iran's "interference," RIA reported citing United Arab Emirates' top diplomat, Sheikh Abdullah bin Zayed al-Nahyan.

06 January 2016

10:26 GMT

Iraq will mediate in the talks between Saudi Arabia and Iran, as the situation threatened to escalate even further. The announcement was made by the country's Foreign Minister Ibrahim al-Jaafari on Wednesday, as translated by Press TV. He was speaking at a joint press conference with Iranian Foreign Minister Mohammad Javad Zarif.

"Creating tension is not a sign of power, but weakness," Zarif was quoted as saying.

05 January 2016

15:36 GMT

Bahrain has announced it has halted all flights to and from Iran, Arabiya TV reported.

10:41 GMT

The escalating spat between Iran and Saudi Arabia could derail all efforts at solving the problem of Syria, German Foreign Minister Frank Walter Steinmeier told BILD in an interview. He expressed a wish that both sides focus urgently on solving their differences and then working together to find political solutions to crises such as Syria and Yemen. The region, he said, requires Tehran and Riyadh to be "responsible players."

09:09 GMT

Sudan is also souring relations with Tehran. It has now given Iranian diplomats two weeks to leave the country, AP reports. This comes a day after Khartoum informed Riyadh of its solidarity with Saudi Arabia on the Iranian matter and announced the expulsion of Iran's ambassador.

08:55 GMT

Kuwait has become the next Islamic country to renounce ties with Iran after it recalled its ambassador to Tehran, following Iran's spat with Saudi Arabia.

04 January 2016

21:08 GMT

The US State Department on Monday renewed its call for leaders in the Middle East to try to calm tensions in the region after Saudi Arabia severed diplomatic relations with Iran.

"The United States is concerned about rising tensions in the Middle East... following recent executions in Saudi Arabia, attacks on Saudi diplomatic properties in Iran and the cutting or downgrading by a number of countries of their diplomatic ties [with Iran]," State Department spokesman John Kirby said at his daily briefing.

"We call on all sides to avoid any actions that would further heighten tensions in the region," it added.

21:08 GMT

Turkey can't support the execution of a senior Shia cleric by Saudi Arabia because Ankara opposes capital punishment in general, Turkish government spokesman Numan Kurtulmus said.

"We are against all instances of capital punishment especially when it is politically motivated... For us it is not possible to support capital punishment by any country," Kurtulmus stated as cited by Reuters.

According to the spokesman, the execution of Sheikh Nimr al-Nimr on Saturday was not conducive to peace in the region.

"But Saudi Arabia and Iran are our friends and we don't want them fighting because that's the last thing this region needs," Kurtulmus added.

19:31 GMT

#Somalia BREAKING Iranian diplomat ordered to leave the country, source Govt official.

— Radio Dalsan (@DalsanFM_SOM) January 4, 2016

18:49 GMT

UN Secretary-General Ban Ki-moon told the Saudi foreign minister that the decision to break ties with Tehran was "worrying."

"The Secretary-General reiterated that the attack on the Saudi embassy in Tehran was deplorable, but added that the announcement of a break in Saudi diplomatic relations with Tehran was deeply worrying," UN spokesman Stephane Dujarric said.