Qatari ex-emir's broken leg sees 9 'emergency' landings in Zurich despite night flight ban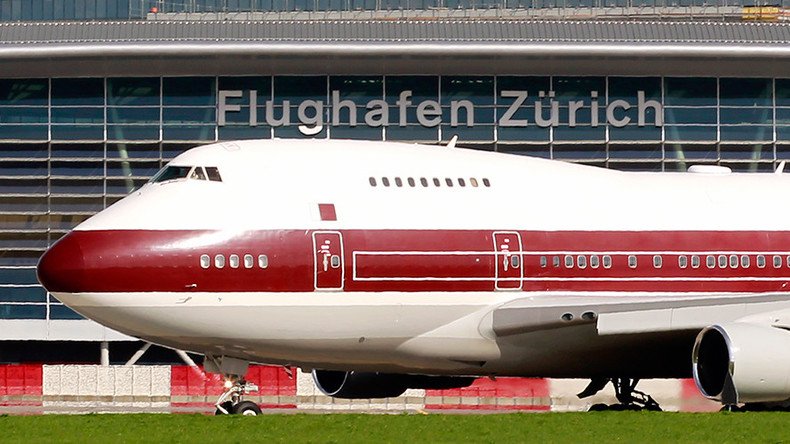 Nine Qatari royal aircraft made consecutive landings over the weekend at Zurich Airport, after the former emir of Qatar reportedly broke his leg at a Moroccan ski resort. The planes were cleared to land despite a local ban on night flights.
The first Airbus of Qatari royal fleet arrived at Zurich-Kloten shortly after midnight last Saturday, local newspaper Tages Anzeiger reports. It was cleared to land by the Swiss Air Force because the Civil Aviation Authority's office was closed at the time. Under current regulations, overnight take-offs and landings are prohibited at Zurich Airport to avoid disturbing local residents with aircraft noise.
The flight came directly from Marrakech, Morocco, where Qatar's royal family was vacationing at Ifrane ski resort in the Atlas Mountains, and was reportedly carrying former ruler of Qatar, Sheikh Hamad bin Khalifa Al Thani, who abdicated in 2013 due to poor health.
Earlier on Thursday, the Qatari government's communications office said the sheikh had suffered "a broken leg while on holiday" and was flown to Zurich on Saturday for surgery.
However, the first Airbus to make an unscheduled landing at Kloten Saturday night, was not the only VIP flight to break the nightly silence over Zurich.
READ MORE: Qatar royals among those abducted in Iraqi desert – report
Another two planes landed at Kloten shortly afterwards, with one of them having call-sign Amiri One – similar to that of the Air Force One – which was reportedly carrying the current emir of Qatar, Tamim bin Hamad al-Thani, an unnamed source told Tages Anzeiger.
During the weekend, six more royal airplanes arrived from in Zurich-Kloten from Doha, the Qatari capital, including one VIP B-747 Jumbo-Jet. Swiss authorities refused to comment on the details.
The Qatari emir's family, the House of Thani, is one of the wealthiest royal houses in the world, profiting from the tiny country's vast gas deposits which are estimated as the third-largest after that of Russia and Iran. It governs under Sharia law, but has vast influence over Western capitals. In Zurich itself, the Thanis own an Atlantis luxury hotel, with multiple private bank assets, according to Tages Anzeiger.
Emir Tamim, who graduated from Britain's Royal Military Academy Sandhurst, succeeded the throne in 2013 after the abdication of his father.
Qatar is preparing to host football's 2022 FIFA World Cup, amid criticism by rights groups and international media. Almost 2 million migrants, mostly from Nepal and other parts of Southeast Asia, have been working on various construction projects connected to World Cup, often underpaid, and living and working in inhuman conditions. Human rights groups have previously estimated that 4,000 workers could die before the start of the championship.
You can share this story on social media: