Qatar's inaction on labor reform a 'human rights disaster' – Amnesty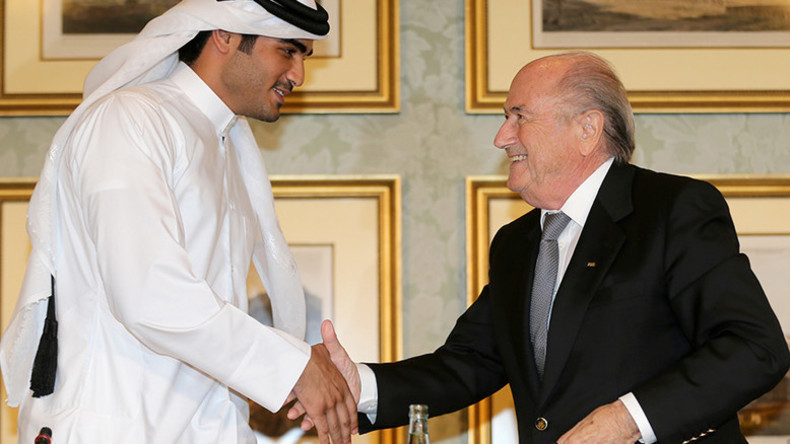 Qatar has done "almost nothing" to curb the exploitation of its migrant workforce as it prepares to host the 2022 World Cup, casting shame on both the Gulf State and FIFA, Amnesty International has said.
"Too little has been done to address rampant migrant labor abuse. Qatar's persistent labor reform delays are a recipe for human rights disaster," Mustafa Qadri, Gulf migrant rights researcher at Amnesty, said in a statement Tuesday, on the eve of the fifth anniversary of Qatar being named host of 2022 World Cup.
"Unless action is taken – and soon – then every football fan who visits Qatar in 2022 should ask themselves how they can be sure they are not benefiting from the blood, sweat and tears of migrant workers," Qadri said.
Almost 2 million migrants, mostly from Nepal and other parts of Southeast Asia, have been working on various infrastructure projects connected to the 2022 FIFA World Cup. Rights groups have repeatedly called on the oil-rich state to investigate violations of workers' rights.
Periodic reports by Amnesty, Human Rights Watch, and the International Trade Union Confederation (ITUC) have found that hundreds of workers have been killed in workplace incidents, while the rest have labored in extreme heat for very low wages.
The ITUC has estimated that 4,000 workers could die before the start of the 2022 World Cup.
In its Tuesday statement, Amnesty urged Qatar to abolish the kafala sponsorship system, which binds workers to a single employer for a set period during which they cannot change jobs or leave the country.
One construction worker quoted by Amnesty said: "I went to my manager's office and told him I want to go home because my pay is always late. The manager screamed at me, saying, 'Keep working or you will never leave!'"
FIFA also bears some of the responsibility for failing to sanction Qatar for its egregious and widely cited labor violations, Qadri writes.
"FIFA has played its part in this sorry performance. It knew there were labor rights issues in Qatar. It must work closely with the Qatari authorities and business partners to ensure the World Cup is not built on exploitation."
For its part Qatar has denied exploitative labor practices and insists it has implemented a range of labor reforms.
You can share this story on social media: