Qatar royals among those abducted in Iraqi desert – report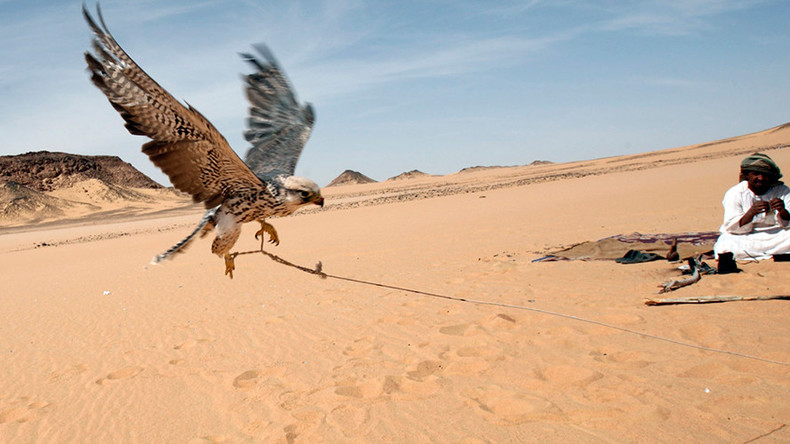 Members of Qatar's royal family were among the group of people kidnapped during a hunting trip in the Iraqi desert, near the Saudi border, an Iraqi police source told Sputnik.
"Among the Qatari hunters abducted last night by armed militants were members of Qatar's ruling family," the source said.
The group, which was hunting with falcons in the Najaf Desert, was intercepted and kidnapped on Tuesday night. It is unclear how many Qatari citizens have been abducted. Reports range from 16 to 26.
The source added that kidnappers led the group in an unknown direction. A large-scale investigation has been launched to find the missing people.
The royals came to Iraq two weeks ago for hunting, according to their annual tradition. "They come to Iraq every year in December and stay there for 30 days to hunt," the source said.
Such hunting trips were popular for wealthy Qatari citizens in the past and were usually put together under the protection of Iraqi security services when Saddam Hussein was in power. However, since his overthrow, such trips have become less frequent and safety cannot be guaranteed.
The ruling family in Qatar is the House of Thani, which has been in power since the 19th century.
The royal Thani family is known for its wealth gathered on the back of the petroleum and liquefied natural gas trade. It is also known for their influence in Western capitals. The Qatari royal family currently owns more of London than the Crown Estate.
The Qatari royal family has absolute authority and governs under Sharia law.
Earlier, Reuters reported about 100 gunmen kidnapped at least 26 Qataris from their hunting camp near the Saudi border early Wednesday. "An armed group driving dozens of pickup trucks kidnapped at least 26 Qatari hunters from their camp in the area of Busaya in Samawa desert near Saudi borders," the news agency quoted Samawa Governor Falih al-Zayady as saying.
You can share this story on social media: