Turkish prosecutor opens investigation into pro-Kurdish party leader over self-rule comments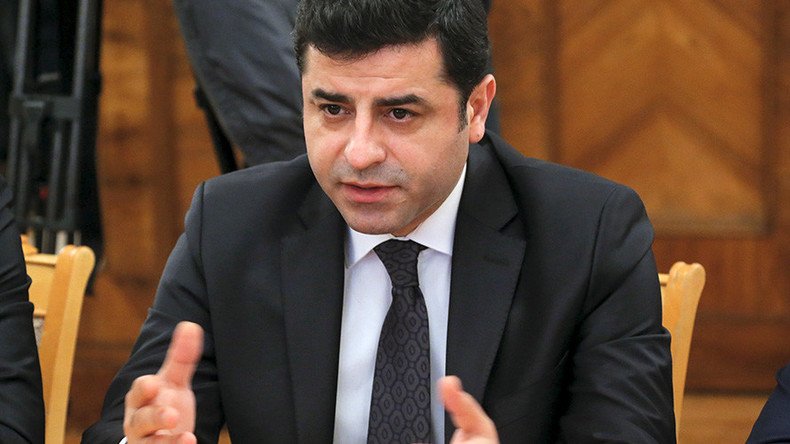 Ankara Public Prosecutor's Office has started an investigation into the co-chair of the pro-Kurdish Peoples' Democratic Party (HDP) Selahattin Demirtas over his comments about Kurdish self-rule.
The probe was launched on Monday, Dogan news agency reports.
On Sunday, during a congress of Kurdish non-governmental organizations, Demirtas said his party would support calls for regional autonomy in the southeastern Turkey.
The Democratic Society Congress (DTK), an association of Kurdish non-governmental organizations, passed a resolution demanding the creation of autonomous regions for Kurds within Turkey and outlining the basic principles of self-rule for Turkish Kurds.
The Congress also stressed that autonomy is the only way to resolve the Kurdish issue in Turkey and claimed that Kurds will not stop fighting until they have achieved self-rule.
"The rightful resistance mounted by our people against the policies that degrade the Kurdish problem, is essentially a demand and struggle for local self-governance and local democracy," the groups said in their final resolution.
Demirtas voiced his support for the resolution, saying that "regional autonomy offers a very important opportunity for everyone in terms of living together," the Daily Sabah reports.
Turkey's Prime Minister Ahmet Davutoglu criticized Demirtas's statements concerning autonomy on Monday, saying he would "never talk with anyone who brings Turkey's unity and integrity to the table." He added that the HDP is not "a truthful political party" and that its "disguised intentions" have eventually been disclosed, the newspaper reports.
The vice chairman of Turkey's main opposition Republican People's Party (CHP), Mehmet Bekaroglu, also criticized Demirtas, saying his party "does not approve of Demirtas's statements," the Daily Sabah reports.
Earlier last week, the chief public prosecutor of Diyarbakir also launched a legal investigation into similar statements by Demirtas.
The latest developments come amid the ongoing security operation carried out by the Turkish security forces against Kurdish militants in the country's southeast. More than 200 Kurdish fighters have been killed in the operation over the last two weeks, according to the military.
On Saturday, Davutoglu canceled a scheduled meeting with HDP leaders, accusing them of "appealing to clashes and tension" over their demands to halt the crackdown on Kurds in the southeast before the planned meeting with the government takes place.
Earlier, Davutoglu also accused Demirtas of "treason," after the HDP leader met with Russian Foreign Minister Sergey Lavrov last Wednesday and denounced the downing of the Russian bomber by the Turkish Air Force in November.
You can share this story on social media: