Refugee center in Germany hit with Molotov Cocktails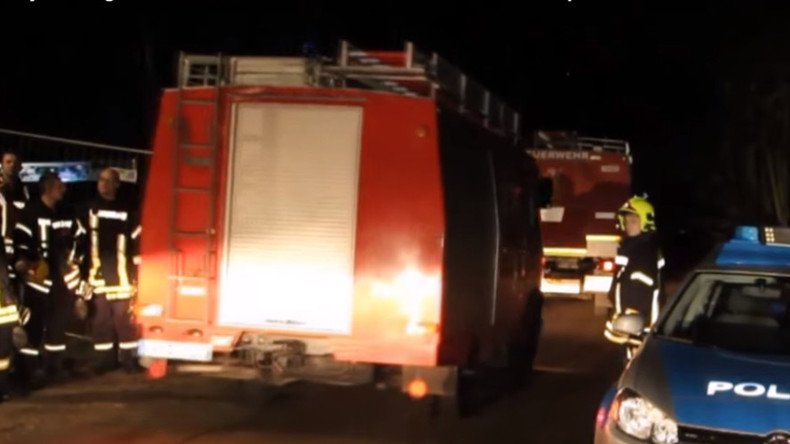 A planned refugee shelter in the German region of Saxony was attacked by unidentified offenders, who threw several Molotov Cocktails at the building, apparently trying to set it on fire.
The attack took place in the village of Schlettau early on Saturday morning. Two security personnel in the shelter heard the "dull sound of an explosion" in the building, German media report.
When they investigated, they found two Molotov Cocktails and one had set a carpet alight. Two others were later found on the building's roof, but they went out without damaging the building.
Security personnel witnessed four people – two men and two women leaving the attack site quickly in a car.
There were four asylum seekers in the building, but no one was injured. About 100 refugees are expected to be accommodated in the shelter in the coming weeks, according to the German regional MDR TV channel.
About 70 firemen with 10 police officers were deployed to the scene. Police are now investigating a suspected arson and the building is now under 24-hour guard, according to the German media.
Another alleged attack on a refugee center occurred almost simultaneously in the German city of Dresden. No one was injured in this incident either, said German media citing police sources.
The attacks on Saturday were the latest increase in hate crimes against asylum seekers in Germany. According to police data, the number of arson attacks on refugee shelters has exceeded 800 this year, significantly up on the previous year.
On December 24, two houses hosting refugees were set on fire in Bavaria in an incident that resulted in twelve people, including seven teens, suffering injuries. Ten more people, including a baby, were injured in another arson attack on a refugee shelter in eastern Germany on December 8.
The total number of xenophobic offenses linked to the "accommodation of asylum seekers" had reached 1610 by mid-November, the Frankfurter Allgemeine Zeitung reports.
READ MORE: 'Go ahead, shoot us!' Anti-refugee Germans clash with police in Freiburg (VIDEO)
German Foreign Minister Frank-Walter Steinmeier accused right-wing parties of encouraging hate crimes against asylum seekers. He warned against exploiting the refugee issue in an attempt to win votes, calling it "dangerous" due to the "drastic increase in right-wing violence in Germany."
The minister denounced the actions of parties using the refugee crisis to achieve their narrow political goals, describing it as "spiritual arson."
READ MORE: Attacks on refugees in Germany drastically increased in 2015 – police
You can share this story on social media: