'Go ahead, shoot us!' Anti-refugee Germans clash with police in Freiburg (VIDEO)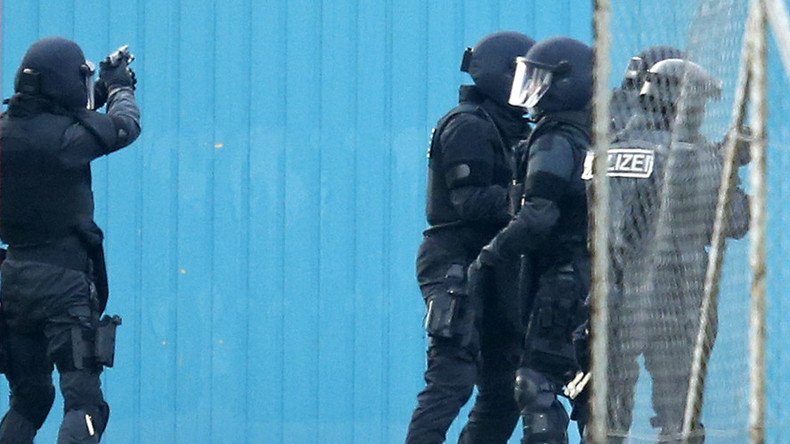 An altercation involving violence was revealed in video footage taken in Freiburg, Germany, as new immigrant arrivals were announced. In the footage, a group of anti-refugee Germans yell at a line of riot police, goading them to use violence.
Audibly distraught and desperate, one German shouts at police: "Why aren't you shooting? Shoot us! Come on, shoot us!" They added "You're destroying our children's future" and similar statements, aimed at calling attention to the country's favorable treatment of Syrian refugees.
The incident happened after the mayor of Freiburg announced the arrival of close to 400 new refugees on nine buses in mid-October.
Although the situation appears not to have escalated, the impassioned cries of the anti-refugee crowd underscore growing divisions taking hold not just in Western Europe, but in the country that is responsible for taking in more refugees than anyone else. Like elsewhere, trouble appears to start within the more working-class segments.
The incident is only one among many other altercations that happened over the immigrant question. As of December 17, at least 817 attacks against immigrants themselves have been registered in Germany, according to the Criminal Police Office. In 2014, the figure stood at only 199.
The rise in violence comes amid welcoming policies of Chancellor Angela Merkel's government towards asylum seekers, which have resulted in a mass influx of refugees into Germany over the past year.
The crimes include arson attacks, property damage, and hate graffiti. The number of arson incidents, which amounted to only six in 2014, soared to 65.
More than 750 of the 817 attacks were carried out by right-wing extremists, while in 2014 they were responsible for 177 out of 199.
You can share this story on social media: