Massive bushfires rage in Australia's state of Victoria on Christmas day (VIDEOS, PHOTOS)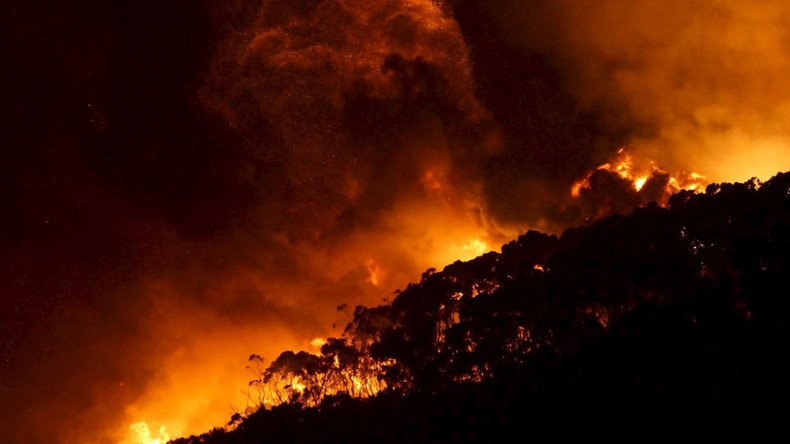 Victoria state in Australia is suffering raging bushfires that have already claimed over 100 homes in one of the country's famous tourist areas. Emergency authorities scrambled to fight the disaster and warn more fires will come by the New Year.
Massive bushfires were fanned by winds and rapidly made advances across residential areas in the townships of Wye River and Separation Creek on Friday.
Victoria PM Daniel Andrews told journalists on Saturday, 116 homes are confirmed lost in the fires in Wye River and Separation Creek, though earlier assessments totaled 103 homes destroyed.
The fires started on 19 December with a lightning strike and have already burned more than 2,000 hectares (4,940 acres) of bush in Victoria state.
The fire also approached the popular tourist town of Lorne, 120 kilometers south of Melbourne, known for its picturesque Great Ocean Road route. Residents and tourists were told to flee in the middle of Christmas celebrations, but the alert was lifted shortly 9am as the bushfires began to ease.
However, emergency authorities said the fires are far from over, urging the population to stay vigilant. Although the firestorms are very intense, no fatalities have been reported.
READ MORE: 'Uncontrolled' fire fueled by hot weather & dry winds rages in South Australia (PHOTOS, VIDEO)
Emergency warnings still remain in place for Wye River and Separation Creek, with the areas closed after residents evacuated on Christmas Day.
Traffic has been disrupted, with walking trails in nearby Great Otway National Park closed to the public, as some of the fires are in the park. A country fire authority notice said power is out, and fallen domestic solar power lines remain a threat.
The devastating fires are expected to last until January or even February in the hot, dry weather conditions – even rain will not do much to help fight the flames.
"This fire doesn't go away," emergency services commissioner Craig Lapsley told the news conference on Saturday, quoted by Reuters. "We will be back into hot, windy weather in January without a doubt. Everything's available to burn," he warned.
The area is one of Australia's most beautiful tourist locations, famous for its amazing scenery, forests and offshore rock formations in the Southern Ocean.
You can share this story on social media: