'Uncontrolled' fire fueled by hot weather & dry winds rages in South Australia (PHOTOS, VIDEO)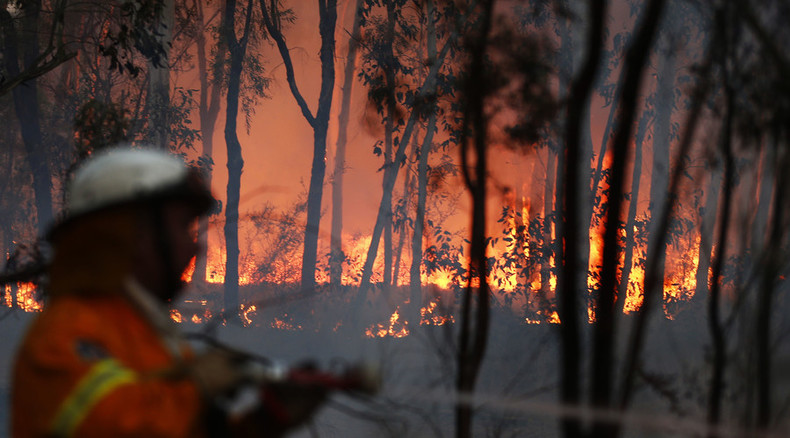 South Australia is engulfed in "extremely dangerous" bushfires as hot weather and high winds hit the region. Officials have issued an emergency warning as uncontrolled fire threatens lives and property.
The Country Fire Service sent 95 firefighters, 40 fire units and water-bombing aircraft as a huge fire makes its way towards Mallala, in South Australia's mid-north. The CFS has warned it is coming close to the Mallala Motorsport Park.
"This is a big fire. It's a concerning fire," a spokesman, Brenton Eden, told ABC radio.
Other fires have also been burning at Penfield, south of Mallala, near Clare, and near Bordertown, in the south-east, the CFS said.
"It is on the eastern side of Mallala. We have lost structures and gained injuries in that area, we are waiting on more intel on that," the CFS acting chief officer Brenton Eden said.
Earlier, fire fighters warned an "extremely dangerous" bush fire is burning north of Adelaide, local media reported.
The fires are raging amid hot conditions across much of South Australia with temperatures reaching 32C. The CFS warn that winds of up to 65 kilometers per hour could cause the fire to change direction.
"The challenge for us at the moment is the winds, as we have said. Any fire burning in catastrophic conditions like it is today ... means the fire will move very fast and may rapidly change direction," the fire chief said.
The CFS has warned local residents to hide in a shelter as the radiant heat could "kill you well before the flames reach you."
"Take shelter in a building and actively defend it," the agency advised.