Anonymous declares cyber war on Turkey over 'supporting ISIS'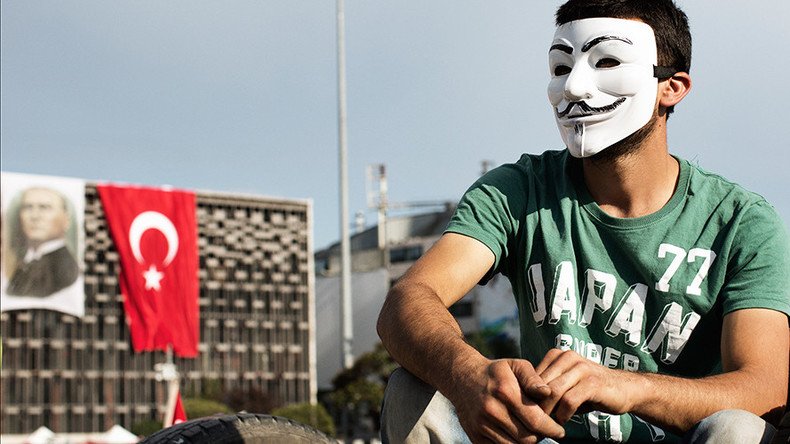 The Anonymous hacktivist group has taken responsibility for a powerful cyber-attack on the Turkish sector of the internet last week. It promised to continue waging cyber warfare on .tr domains until Ankara stops the "insanity" of supporting Islamic State.
The massive Distributed Denial of Service (DDoS) attack on Turkish websites last week, initially attributed to spooky "Russian hackers," has been clarified with Anonymous issuing a video claiming responsibility and declaring cyber war on Turkey for supporting terrorists of Islamic State (IS, formerly ISIS/ISIL).
The DDoS attack (measured in gigabits per second, or plainly how much traffic is being sent to a site) on Turkish DNS servers reached 40 Gbps, quite enough to shut down altogether any domain.
The attack began on December 14, and came to a halt only a week later, on December 21. Turkish media alleged that 400,000 .tr domains were forced offline.
READ MORE: 'More devastating than any nuclear war': John McAfee on the coming cyber war with ISIS
The affected websites were able to return online only after Turkey's leading National Response Center for Cyber Events cut off all incoming international traffic to the .tr websites, thus shutting down national "internet borders," completely and denying "anybody outside the country access to Turkish websites," Anonymous pointed out.
"This mass cyber-attack is known to be the biggest so far with the intensity of slowing down the websites," ODTÜ Computer Engineering Professor Attila Özgit said as cited by Hurriyet Daily News.
The hacktivists claim the attack on Turkey was conducted within the framework of the counterterrorist cyber operation #OpISIS. The basic message behind the attack is that Turkey's woes with the internet are set to repeat unless Ankara revises its policies towards Islamic extremists.
"We won't accept that [President Recep Tayyip] Erdogan, the leader of Turkey, will help ISIS any longer. The news media has already stated that Turkey's internet has been the victim of massive DDOS attacks," SAID a cloaked figure in the video wearing a Guy Fawkes mask.
"Turkey is supporting Daesh [Arabic pejorative for Islamic State] by buying oil from them, and hospitalizing their fighters," the hacktivist in the video said. "If you don't stop supporting ISIS, we will continue attacking your internet, your root DNS, your banks and take your government sites down. After the root DNS we will start to hit your airports, military assets and private state connections.
'We will destroy your critical banking infrastructure. Stop this insanity now, Turkey. Your fate is in your own hands."
In early December, Russia presented proof that Turkey is deeply involved in illegal oil trafficking and trade. Ankara has consistently denied this, despite the presented video evidence made by Russian drones and warplanes.
READ MORE: Russia says Turkey's Erdogan & family involved in illegal ISIS oil trade
You can share this story on social media: