German teachers aim to teach 'Mein Kampf' in schools to defeat extremism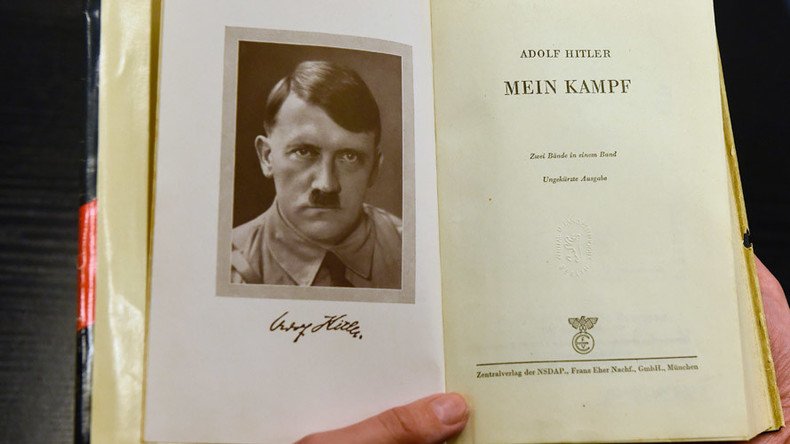 An annotated version of Hitler's infamous "Mein Kampf," banned in Germany for decades, will hit the bookshelves in January. Now it will become part of the school curriculum to "immunize" teenagers against fascist ideas, the German Teachers' Association says.
On Friday, German Teachers' Association and the Social Democrats proposed that Hitler's autobiographical Nazi manifesto be taught in high schools to help "immunize" youngsters against far-right ideologies.
"A professional use of excerpts from the [original] text for lecturing can be an important tool for immunization of teenagers against political extremism," the president of the association, Josef Kraus, told Handelsblatt newspaper, arguing that schools cannot ignore Hitler's book.
He says "Mein Kampf" is better taught as a revised edition by professionally trained politics teachers rather than get accessed by youngsters in the web without any guidance.
Ernst Dieter Rossmann, the Social Democrats' spokesperson for education, said: "Terrible and monstrous book like 'Mein Kampf,' with its anti-Semitic and people-hating rants, has to be taught by highly qualified lecturers as part of the modern school curriculum."
Rossmann says that German teenagers are facing times of "reawakening right-wing populism," and therefore propagandizing humanist values and the basics of democracy is becoming increasingly important.
The teachers' association proposed that selected passages from the book should be taught to students aged 16 and over, according to Handelsblatt.
However, prominent Bavarian Jewish community leader Charlotte Knobloch told the newspaper that she strongly opposed the idea, saying that using the "profoundly anti-Jewish diatribe" as teaching material would be irresponsible. "German [high-school] students know nothing about Jews and Jewry but the Holocaust," she added.
"Mein Kampf" has not been printed in Germany since the end of the Second World War, with the government of Bavaria retaining copyright on the book for decades. In January 2016, the copyright is due to expire under German law, and a "scholarly annotated" edition of the book is due to be published. The Munich-based Institute for Contemporary History plans to publish the edition, entitled: "Hitler, Mein Kampf: A critical edition," in January, adding some 3,500 references to the Nazi leader's diatribes.
Many in Germany believe the book that outlined strategies for establishing the Nazi regime and genocidal practices to exterminate whole peoples should not be published in modern times. A recent poll released by YouGov suggested two out of five Germans are concerned that reprinting "Mein Kampf" could facilitate the rise of the far-right in the country.


You can share this story on social media: