Beijing rebukes Washington after B-52 bomber strays over artificial island in South China Sea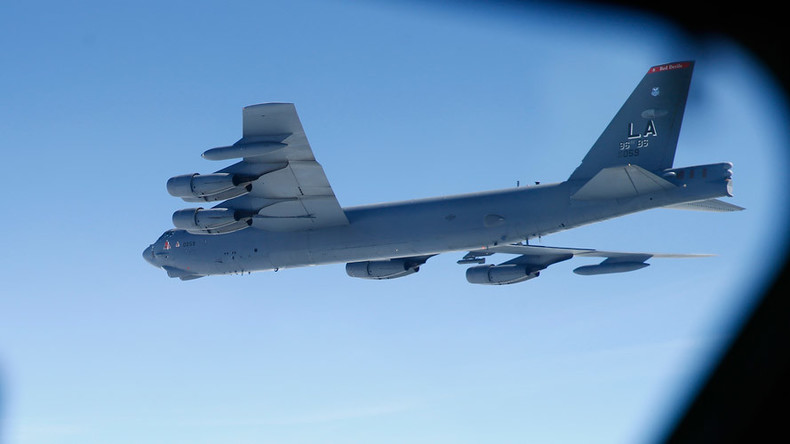 Beijing has described as a "provocation" the flight of a US nuclear-capable B-52 bomber over a man-made island in the South China Sea that China claims sovereignty over. The warplane reportedly did so by mistake rather than to challenge China, as was the case with other missions.
China filed a complaint with the Pentagon over the incident, the US DoD reported Friday, adding that the flight was not part of the so-called Freedom of Navigation effort to undermine China's territorial claims in the sea.
"The Chinese have raised concerns with us about the flight path of a recent training mission," Navy Commander Bill Urban said. "We are looking into the matter."
Beijing called the flight "a provocation" in a statement released by the Defense Ministry on Saturday. It urged the United States "to immediately adopt measures to put an end to such kind of dangerous actions, in order not to impact the two countries' military relations."
According to the Wall Street Journal, the incident happened last week near the Cuarteron Reef in the Spratly Islands, an archipelago contested by China and several other regional nations. The newspaper cited a US military official as saying that the bomber had mistakenly come within a 12 nautical mile zone of the island - as close as 2 miles, according to the Chinese complaint.
Over the past years China has reclaimed several islands in the area and built infrastructure on them capable of supporting combat missions of the Chinese Air Force. Beijing insists that the effort is primarily civilian and is meant to make South China Sea, the region with one of the heaviest maritime traffic in the world, most of it China-bound, a safer place.
The US rejects Beijing's claim and occasionally sends its warplanes and warships through the 12 nautical mile area around the artificial islands, which China sees as its exclusive zone. In late October the US guided missile destroyer USS Lassen sailed close to Subi Reef with one such mission, provoking an angry rebuke from China.
Washington insists that the missions are fully legitimate as they pass through international space, but Beijing warned that the standoff may lead to a minor incident escalating into a major confrontation.
You can share this story on social media: