Soyuz capsule delivers three-man crew to ISS, including first publicly-funded Brit (VIDEO)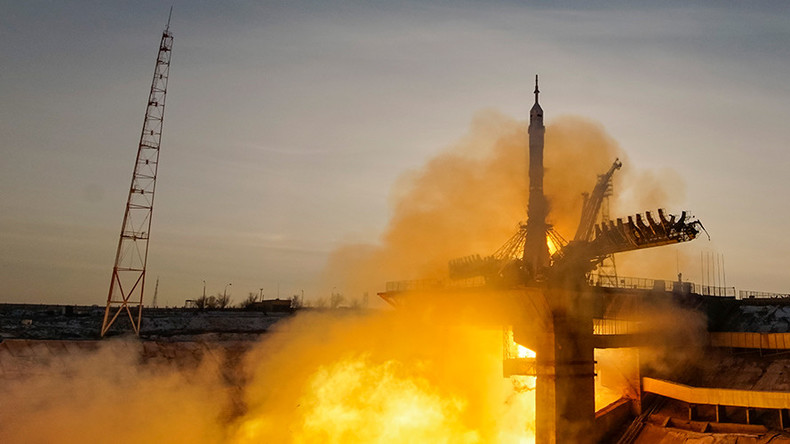 A Soyuz spacecraft carrying Russian, US, and European crew members docked with the International Space Station on Tuesday. Tim Peake became the first UK astronaut to set foot aboard the ISS under the British flag as he joined the international space team.
READ MORE: Meteor-like Soyuz rocket lights up sky over Siberia (PHOTOS, VIDEOS)
A rocket carrying Russian Yuri Malenchenko, American Tim Kopra and Tim Peake of the UK blast off from the Baikonur Cosmodrome in Kazakhstan for a journey that took slightly more than six hours.
Although flight went as scheduled, the astronauts had to dock with the ISS manually due to a technical glitch.
"The commander switched to manual control and everything went well," a spokesman for the Russian space agency told AFP, adding that they had docked at 17:33 GMT (3:33 AEST).
The three-man crew is joining Expedition 46 Commander Scott Kelly of NASA and Russian Flight Engineers Mikhail Kornienko and Sergey Volkov at the ISS.
This is a landmark mission for Peake of the European Space Agency (ESA), as it marks the first time a publically funded British astronaut has traveled to the ISS. Previously, astronauts of British origin were either privately funded or US citizens representing NASA.
Peake, a former helicopter pilot and current engineer for the ESA, will carry out dozens of experiments in orbit during the next 173 days of the so-called Principia mission. The agency called it the culmination of the six years of training Peake has had since being selected for the European astronaut corps in 2009.
Queen Elizabeth II's official Twitter account retweeted the UK Space Agency, congratulating Peake on his journey and wishing him "a productive mission and safe return to Earth."
The actual "first Briton in space" – Helen Sharman – has advised Peake to "look out of the window occasionally," as the views of Earth from orbit "will be something that will stay with him for the rest of his life," according to the Independent. Sharman visited the Soviet/Russian Mir space station in May 1991 as a part of Project Juno, a private program supported by the USSR and a number of British companies.
Expedition 47 is scheduled to receive several cargo spacecraft, including multiple US commercial resupply vehicles from SpaceX and Orbital ATK, bringing the team food, fuel, supplies and research.
Peake, Kopra and Malenchenko will return on Earth in June of 2016, while Kelly, Kornienko and Volkov are expected to return home on March 1, 2016 after completing a year-long mission.