Meteor-like Soyuz rocket lights up sky over Siberia (PHOTOS, VIDEOS)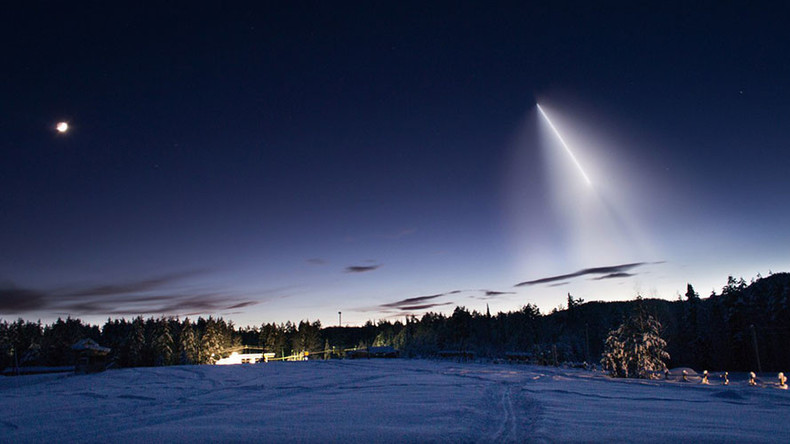 People across Western Siberia, the Altai region and Kazakhstan have been enjoying the truly unique display of a Soyuz rocket travelling through the sky, bound for the International Space Station (ISS).
A Soyuz FG rocket carrying the Soyuz TMA-19M spacecraft with Russian cosmonaut Yuri Malenchenko, NASA astronaut Timothy Kopra and European Space Agency (ESA) astronaut Timothy Peake on board, thundered off the launch pad at the Baikonur cosmodrome on Tuesday, bringing a spectacular sight to the cold winter sky.
Right after the launch spectators observed an unusual phenomena – the exhaust gases of the rocket illuminated by the sun, forming something resembling a jelly-fish or octopus with its glimmering tentacles stretching as far as the horizon.
The mysterious shape looked especially striking in the evening sky touched with hues of gold and orange.
It will take astronauts about six-and-a-half hours to reach the orbital station. Docking is scheduled for 8:23pm Moscow time (17:23 GMT), Tuesday.
The crew, due to spend six months at the space station, will join Russian Mikhail Korniyenko and American Scott Kelly, who have been aboard the ISS since March, and another Russian Sergey Volkov, who flew to the station in September.
This mission marks a major step for the United Kingdom as it's the first time an astronaut with a Union Jack on his shoulder will board the ISS.
This is the 128th launch of a Soyuz spacecraft since 1967.