Pro-gun groups stage 'mock shooting' in Austin against gun-free zones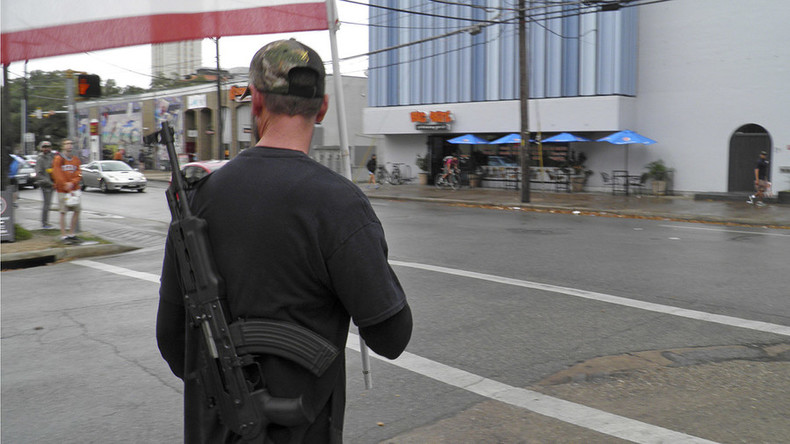 Pro-gun activists have staged a "mock mass shooting" outside the University of Texas, saying "gun-free zones" in campuses make unarmed students less secure. The action comes as a so-called "campus carry" law allowing weapons at universities is set to be enforced.
Two Texas-based pro-gun groups – Come and Take It Texas and Don'tcomply.com – set up their action to protest efforts by students and academics to make the Austin-based University of Texas a "gun-free zone."
After announcing the mock shooting the previous week, the organizers tried to avoid media and crowds to create a feeling of "real life."
"In real [shooting] events like this, you don't know when they're going to happen, you don't know where they're going to happen ... we purposely did it that way," Jason Orsek, vice president of both gun groups, told AP.
READ MORE: Gun activists want to stage fake mass shooting event at University of Texas, Austin
Initially, the University of Texas was initially picked as the venue for the event, but the school said it would consider it criminal trespassing. So the march was held at an area of shops and restaurants next to the campus known as the Drag.
After the march involving several members openly carrying real assault-style rifles, the small demonstration - barely counting over a dozen people - regrouped across the street to "shoot" six people. Cardboard guns were used, and the ketchup-splattered "victims" were outlined with chalk to show where they fell.
Mass shootings are unpredictable. The mock one we did today was two blocks from where people expected it. The police response time was over 10 minutes.

Posted by Come And Take It Texas on 12 декабря 2015 г.
President of Come and Take it Texas, Murdoch Pizgatti, told USA Today the mock shootout alluded to the many massacres that take place "in places where guns were not allowed," including the bloodiest that occurred at Virginia Tech in 2007, which resulted in 32 fatalities.
The event was countered by gun-control advocates, students and teachers. Kat Hoang, president of Texas College Democrats, which unites Democratic Party supporters across Texan colleges, slammed the event as "intimidation in pursuit of political gains," saying they are "propagandizing recent mass shootings [and] dehumanizing tragedies."
Several UT students also gathered outside, shouting, "Mock shooting, mock victims" and holding posters reading: "Our history is not a joke." This could also refer to the 1966 mass shooting perpetrated by former Marine Charles Whitman, who killed 14 people and wounded 32 near the UT tower.
In June, the Texas governor adopted a state legislature bill (aka "campus carry law") to allow concealed weapons on college campuses, although public universities can establish gun-free zones. Plans under consideration for the Austin campus would prohibit firearms in dorms, but allow them in classrooms. The law will come into force from January 2016.