Hungary police search for bomb aboard Egypt-bound German jet after emergency landing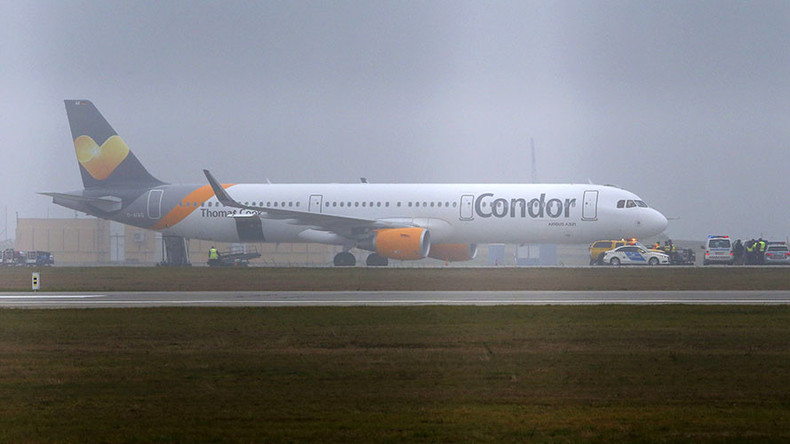 A passenger jet heading from Berlin to Hurghada, Egypt, landed in Budapest due to a bomb threat, Hungarian police said on Monday.
Police conducted searches of the plane's passengers and luggage, but found no explosives, police spokeswoman Viktoria Csiszer-Kovacs told Reuters. She added that the threat targeted the airline company, but declined to name the airline operator.
According to Flightradar24, the grounded plane is flight DE490 operated by Condor Airlines. The A321 jet heading from Berlin's Schoenefeld Airport was redirected to Budapest while in Serbian airspace.
Police said that the urgent security measures have not affected airport traffic, local media reported.
On October 31 a Russian A321 airliner was downed over Egypt's Sinai Peninsula, with all 224 people on board killed. It was revealed that the aircraft was downed by a bomb planted on board by terrorists.
The jihadist group Islamic State (IS, formerly ISIS/ISIL) claimed responsibility for the attack. In the wake of the downing President Vladimir Putin signed a decree that ordered a stop on all Russian flights to Egypt.
READ MORE:Plane crash in Sinai a terrorist attack - Russian Security Service
On November 19, a plane flying from Warsaw, bound for the Egyptian resort of Hurghada, was forced to make an emergency landing at Bulgaria's Burgas airport after a bomb threat. The passengers were evacuated and the plane was searched. There were no reports of the actual bomb being found.
The day before, two Air France planes flying to Paris from Washington and Los Angeles were forced to divert to Halifax and Salt Lake City respectively due to bomb threats. Security officials later said that no evidence had been found that would lend credibility to threats.