Crowd-rescuing: Refugee who used to sell pens in Lebanon founds 3 businesses with donated $190,000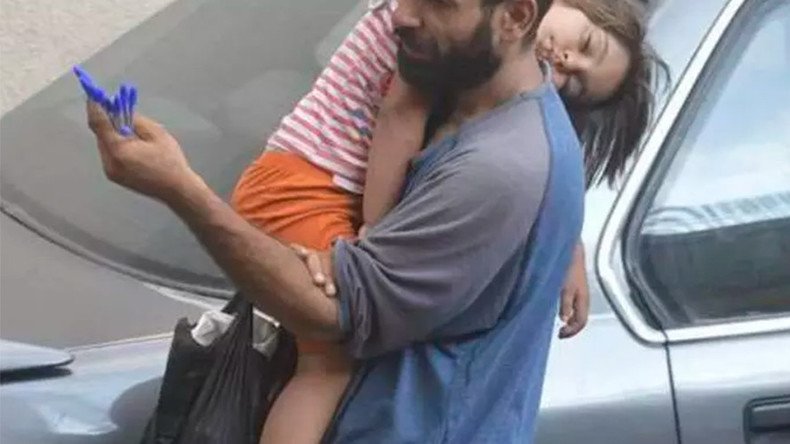 The picture of 33-year-old Syrian refugee selling pens became a viral hit a few months ago. Now, the story has come to a fairy tale ending: he received over $190,000 via crowd-funding and owns three businesses, helping out Syrian refugees.
READ MORE: Heart-wrenching images of Syrian refugee trigger $100k fundraiser

#buypens was the Twitter campaign organized by users all over the world, after the photo of Abdul Halim al-Attar emerged online over the summer. The man was trying to sell pens to motorists in the streets of Beirut, Lebanon, to buy food for himself and his daughter.
The crowd-funding campaign that followed raised over $190,000, helping the 33-year-old Syrian man to start a new life.
He now owns three businesses: a bakery, a small restaurant, and a kebab shop, all in Beirut, Lebanon. He has also employed 16 other Syrian refugees, and gave almost $25,000 to his friends and family in Syria.
"Not only did my life change, but also the lives of my children and the lives of people in Syria whom I helped," he said, as quoted by The Telegraph.
Despite all the support, al-Attar hasn't received all the funds from the campaign yet: he only got 40 percent following the PayPal and Indiegogo commissions of about $20,000.
What complicates things is the fact that PayPal doesn't work in Lebanon, so the cash is gradually brought to al-Attar from Dubai by a friend.
However, al-Attar doesn't complain: he told AP he was getting many orders of fresh bread and shawarmas from the neighbors, his son went to school after three years of absence, and the neighbors "just greet me better, […] respect me more."
Explaining why he started the businesses, the 33-year-old explained that he had no other choice.
"I had to invest the money, otherwise it would be lost."
It's been quite a ride for al-Attar: he travelled to Lebanon from Yarmouk, the Palestinian refugee camp on the southern edge of Damascus. That camp is now destroyed by the war. Also, being from Syria, al-Attar is Palestinian and doesn't have Syrian citizenship.
However, for now, Abdul Halim al-Attar and his family are safe and sound in Beirut.
You can share this story on social media: