13,800yo rule-breaking rock drawing of Paleolithic life found in Spain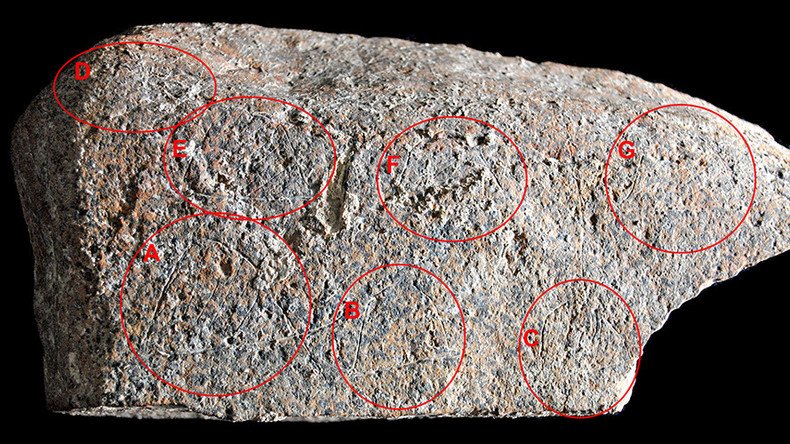 Possibly the earliest known picture of a pre-historic settlement has been unearthed near Barcelona, Spain. An ancient artist broke a tradition to depict wilderness and carved what he used to live in – a hunter-gatherer camp.
The unique discovery looked quite simple, even primitive – this is a rock with a few mounds casually engraved on it. The schist slab is 18 cm wide, 8.5 cm high, and 3.6 cm thick in its maximum dimensions, according to the publication.
When it was unearthed at an excavation site in Moli del Salt, 30 kilometers away from Barcelona, Spain, the archaeologists were hardly able to guess what these seven crude semi-circular figures could mean.
But after the excavations continued, a 13,800 year-old hunter-gatherer encampment surfaced, explaining the image on the rock was actually a settlement of dome-shaped huts where pre-historic people used to live. The artist placed them in three lines, obviously trying to create a panoramic view of his settlement.
Although the engraving itself is probably a hasty sketch on stone, it is said to be the first known depiction of a tribal villages set up by tribes, which until now had only been guessed at by archaeologists.
"This Paleolithic engraving from northeastern Spain brings us the first representation of a human social group," Manuel Vaquero from Catalan Institute of Human Paleoecology and Social Evolution said in a press release.
READ MORE: Ancient artistry uncovered: Exquisite 1,700-yo Roman mosaic unveiled in Israel
"There are other representations of landscapes, but they are natural landscapes, mountains, rivers. This is the first human landscape," he added.
So far, the earliest known village drawing dating from 1,000 BC was discovered in the Lombardy province of Italy was previously one of the earliest images of a prehistoric social structure. Depictions of houses became more common after the appearance of sedentary communities in Neolithic epoch about 11,500 years ago, the scientists say.
It means that if the carved image on the rock was indeed to depict a human landscape, then the ancient artist who made them happened to be far ahead of his or her time.
You can share this story on social media: