Ancient artistry uncovered: Exquisite 1,700-yo Roman mosaic unveiled in Israel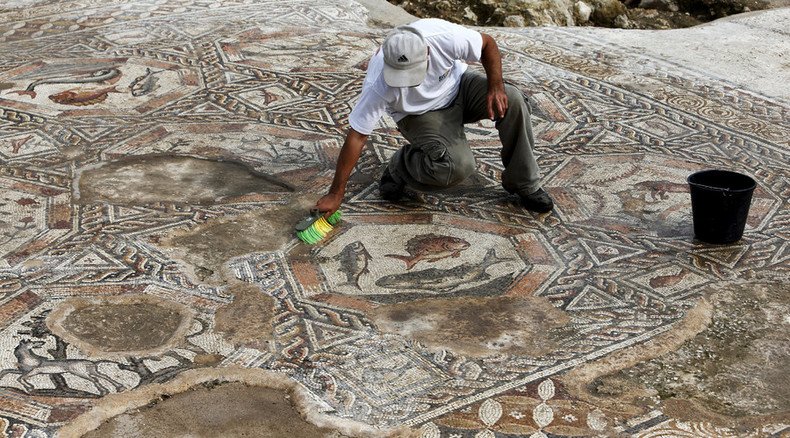 Archeologists have unearthed an impressive Roman mosaic reportedly dating back to the Byzantine Empire while constructing a public building in Israel. The artwork reflects a highly developed artistic ability in scenes of hunting, animals, birds and fish.
On Monday, Israel's Antiquities Authority unveiled a 1,700-year-old mosaic floor found last year in the town of Lod. It was discovered while building a visitor center constructed to display another mosaic, discovered two decades ago at the same site.
"Important artifacts were discovered in the new excavation, the most notable of which is another colorful mosaic (11×13 meters) that was the courtyard pavement of the magnificent villa that had the famous mosaic in its living room," The Jerusalem Post quoted Yoli Shwartz, a spokeswoman for the Antiquities Authority, as saying.
The scenes in the newly revealed mosaic depict the hunting of animals, as well as fish and birds, and flowers in baskets and vases. The mosaics are well-preserved, despite their age.
"The quality of the images portrayed in the mosaic indicates a highly developed artistic ability," said Antiquities Authority excavation director Amir Gorzalczany.
"Numerous fragments of frescoes reflect the decoration and the meticulous and luxurious design, which are in the best tradition of the well-born of the period," he added.
The town of Lod is also known for its famous Lod Mosaic, which was discovered by construction workers in the early 1990s at the same location.
"The mosaic, which was discovered and excavated at that time by the late Miriam Avissar, is among the most beautiful in the country," Gorzalczany said. It has been exhibited in recent years in some of the world's finest museums, including at the Metropolitan Museum in New York, the Louvre in Paris, and the Hermitage museum in St. Petersburg. "It is currently on display at the Cini Gallery in Venice, Italy, and in the future it will be housed in the main building to be erected in Lod," he said.
However, the famous Lod Mosaic happened to be only a part of the wider discovery left unearthed for over 20 years.
The current excavations have exposed a large courtyard paved with the mosaic and surrounded by porticos (galleries open to the courtyard) with a ceiling supported by columns. The villa itself was located in an important regional center for the Roman Byzantine Empire and the building was used throughout various eras.
"At that time, Lod was called Diospolis and was the district capital until it was replaced by Ramle after the Muslim conquest," Gorzalczany said.
The authorities say the new discoveries will naturally be incorporated into the visitor center originally constructed for the Lod Mosaic.
You can share this story on social media: